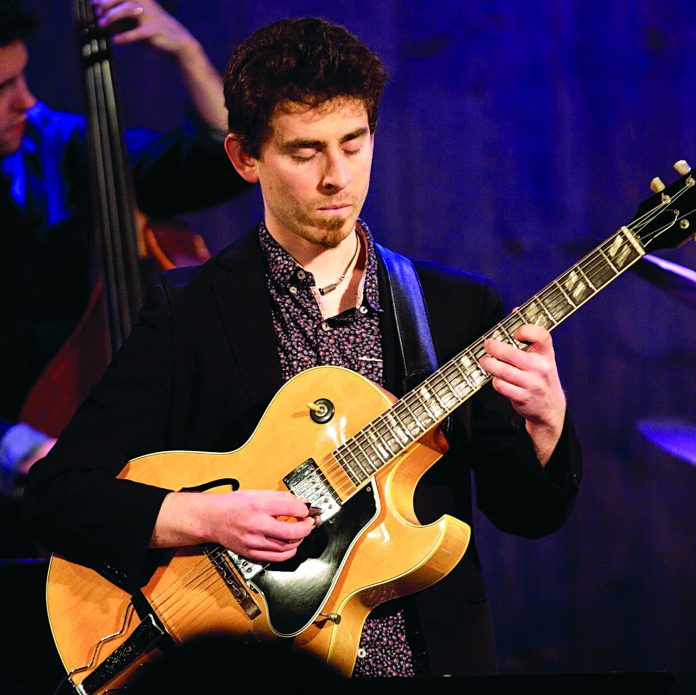 Great music travels effortlessly across geography and time and that belief might never be more true than today's MidDay at Grace performances.
In video concert will be jazz guitarist Scott Bramer and his Trio; International operatic duo, soprano Emily Reed and her baritone husband, Johann Schram Reed in a separate concert recorded in Iceland; and a guest performance compilation of members of the Culver City Flute Choir, under the direction of   Patty Sikorski.
The latter performance was recorded in concert at Grace Church.
"What an amazing turn of events since we last met only four weeks ago with our beautiful Cantors," Marya Basaraba, Grace Church music director and creator of the MidDay monthly concerts, said in an email message. 
Before the COVID-19 pandemic and how social distancing has impacted the world in recent months, guitarist Bramer was slated to be the headline performer for the April 16 MidDay at Grace concert.
The Los Angeles-based musician is a guitarist, studio musician, composer and arranger, as well as an educator. A 2011 graduate of USC's Thornton School of Music, Bramer's style of music is a blend of jazz, pop, rock, folk, blues and classical.
He has studied with such respected musicians as Bruce Forman, Darek Oles, John Pisano and Bob Sheppard.
He has "shared the stage" with artists such as Wynton Marsalis and Al Jackson, and has performed venues across the country, including Rose Hall in Lincoln Center, the Jazz Bakery, Avery Fisher Hall and Catalina Jazz Club.
Bramer is joined by his Trio in today's presenation.
Emily (Dyer) Reed is among the rising sopranos and was most recently a part of Lyric Opera OC with performances in "Amahl and the Night Visitors" and "L'enfat Prodigue."
A protégé of Marya Basaraba, Reed has participated in renowned Young Artist Programs, including Aspen Opera Theater Company, OperaWorks, and Songfest.
Her resume notes that she is "passionate about bringing opera and musical theater to children, and has collaborated with the Pacific Symphony in its endeavor to produce child-friendly opera performances."
She has studied locally at Chapman University and at Indiana University, where she was also a former associate instructor.
Her husband Johhann Schram Reed is a noted Icelandic bass-baritone, who was most recently seen as Colline (La Boheme) at the Portland Opera. Previously, he performed in Rossini's II barbiere de Sivigilla for Opera Roanoke, and in Opera Joie de Vivre's concert product of "La Tragedie de Carmen."
During the 2018 season, the successful crossover artist was featured in Utah Festival Opera's 2018 "The Secret Gardena," and in "Amazing Grace."
Reed took part of the Marina Del Rey Symphony's production of "La Bohéme" in the summer of 2019. 
Patty Sikorski is a freelance musician and teacher in the Los Angeles area for more than 30 years. In the past 10 years, she had taught middle and high school in the Culver City Unified School District.
Sikorski, a previous performer at the January 2019 MidDay at Grace, has an impressive resume that includes the position of "principal flutist in the L.A.-based Gilbert and Sullivan repertory Company, Opera a la Carte.
She continues to perform with other musical groups for private engages, as well as in symphony concerts. As a conductor, Sikorski leads the Culver City Flute choice, which celebrates its 33 years in 2020.
Basaraba praised the artists involved in today's MidDay concert.
"This promises to be a beautiful program and you will be part of a virtual audience for MidDAY concert No. 14," she said. 
Since the concert series was launched in December 2018, along with Three 'Opera at Grace' programs, Basaraba said that the 1,000-plus attendees have raised more than $7,000 for a wide variety of local non-profit organizations.
The April 16 concert artists have chosen the Grace Diner – Feeding the Underserved (a tax exempt, 501(c) (3), a nonprofit organization EIN# 46-5058093) on the campus of the church as the designated charity to receive donations. Donations can be made at https://gracediner.org
Basaraba detailed the diner's contributions in an email message, saying, "The diner is an extraordinary ministry that has served more than 30,000 sit-down meals to the homeless and needy for the past 10 years under the direction of Lisa Skelley and a dedicated team of volunteers."