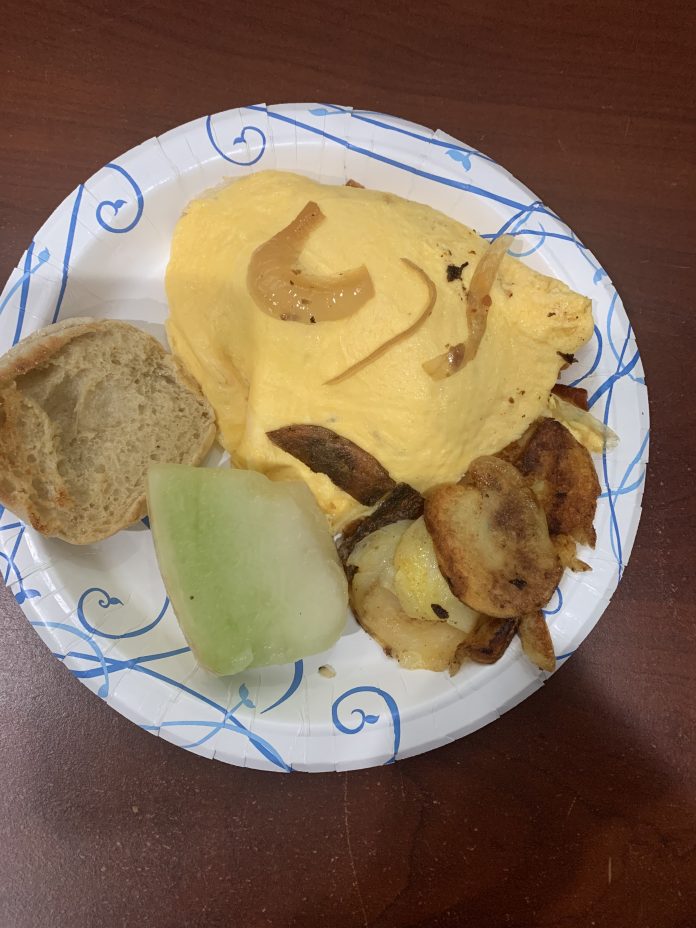 Located just off of Sepulveda on Washington Place, the Metro Cafe offers comfort food with a swanky edge. A glance at the shiny decor and intriguing menu, and it's clear that this isn't your standard diner. That said, the atmosphere is welcoming. And the options are wonderful. Vegetarians and vegans have plenty to choose from too.
We were there for a midweek brunch, determined to test out the Metro Cafe's omelette. That is such a standard American breakfast dish, but it's also way too easy to get it wrong. All too often, omelettes are served soggy and bland. Fortunately, that's not the case here.
We opted for the Culver Omelette. Fair warning – there are two Metro Cafe locations, and what is listed online as the "El Segundo Omelette" is renamed "Culver Omelette" in Culver City, for obvious reasons.
On the surface, it's a simple dish. Caramelized onions, bacon and cheddar cheese, folded into the eggs. To their credit, everything is cooked just right. The onions are browned and add so much flavor. The bacon is crispy, crumbled and comforting. And the cheese is rich, giving that satisfying, stringy texture when pulling a bite away.
That all surrounded by the perfect eggs – a slight bounce, crisp on the outside, and sponging up the variety of flavors.
The omelette is served with expertly seasoned and fried sliced potatoes, your choice of toast (we opted for an English muffin) and a wedge of melon. The latter in particular is most welcome – the juice of the fruit cutting through the grease of the cheese and bacon. That said, the dish doesn't feel overly greasy.
The Metro Cafe's lunch and dinner menus look equally tempting, and we'll certainly be back there in the future to try out more dishes. For now, we can absolutely recommend them for a breakfast/brunch destination.
The Metro Cafe is located at 11188 Washington Place, Culver City. Call 310-559-6821 or visit metrocafela.com.