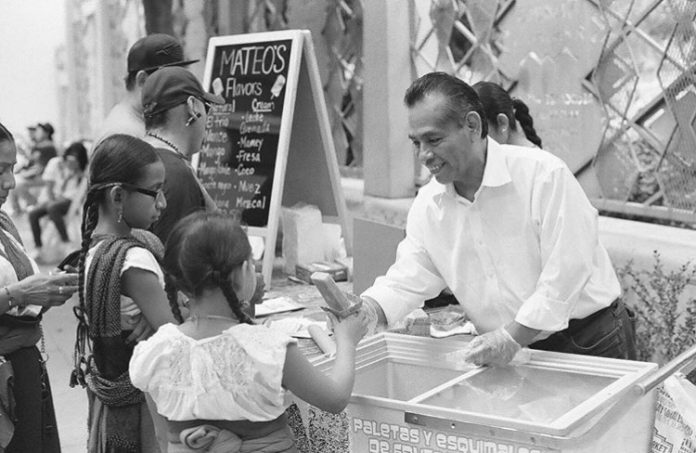 Having grown up in Oaxaca, Mexico, Priciliano Mateo had a dream to open his own ice pop business in Los Angeles. It all started when he began working at a well known frozen novelties company. Learning the entire process of making frozen treats is what first inspired him, according to his son Oscar, who has worked at the shop since he was in high school.
Mateo's desire was to include a wide array of quality fruits and tropical ingredients similar to what he grew up eating in Southern Mexico. His goal was achieved 19 years ago in Mid-City, Los Angeles where he opened his first shop. Three more were to follow, one of which has been in Culver City for 10 years.
The small establishment, located in a strip mall on Sepulveda Boulevard might be easy to miss and parking in the lot can be a challenge. But that didn't seem to stop the overflow of patrons on the afternoon I visited. What it lacks in square footage, it more than makes up for in varieties of frozen desserts. If the 29 different ice-pops are not enough for you, there are 25 types of ice cream.
Flavors you might expect to find include strawberry ice pops, complete with a big juicy berry positioned at the end. Less common fruit ingredients such as soursop were among the offerings.
The staff said that contrary to the descriptive name, soursop tastes like a sweet apple. For the chocolate lovers, there is a pineapple-coconut popsicle dipped in a raw chocolate sauce or cacao.
A dairy-free coconut ice pop made with both the pulp and milk of a coconut that I tried was extremely tasty. I was told that minimal amounts of sweeteners are added only to enhance the flavor because they want the focus of the fruit to stand out.
Surprisingly, chicken, turkey, tuna and vegetable sandwiches are served daily on French baguettes. Oscar said that a popular sandwich is one made with quesillo cheese, popular in Oaxaca, which is similar in texture to Mozerella but has a stronger flavor.
Copious amounts of melons, bananas, and pineapples adorned the countertops. White linen clad staff behind the counter were patient and helpful. A few tiny round tables and chairs were being occupied by lunch-goers.
Some less expected items like a lime-green colored cactus fruit with seeds called prickly pear caught my eye in the display case. I may be back just to sample that.
Mateo's was both an adventurous experience and an education and the opportunities to sample a multitude of frozen desserts seem endless. They are open seven days a week from 7 a.m to 9 p.m. and are located at 4929 Sepulveda Blvd., Culver City.