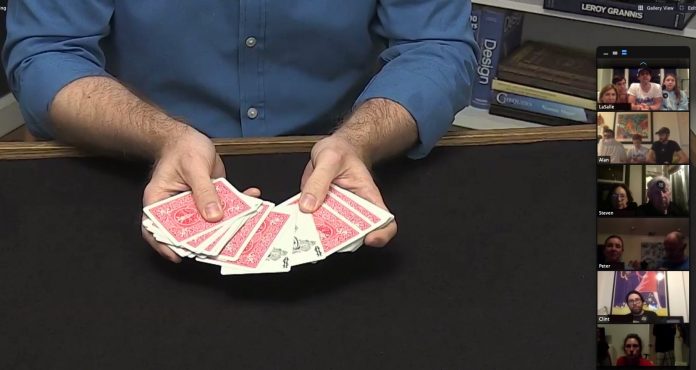 The Geffen Playhouse is presenting the world premiere of The Present, a live, virtual and interactive theatrical experience within the viewer's home, written and performed by master illusionist, storyteller and Geffen alum Helder Guimarães. Directed by Academy Award nominee Frank Marshall ('Jurassic World,' 'Indiana Jones,' 'Goonies,' 'Back to the Future'), 'The Present' marks the first full-length production to emerge from Geffen Playhouse's new Geffen Stayhouse initiative to offer high quality entertainment in our current "safer at home" environment.
Having seen and been completely amazed before by Helder Guimarães up close and personal at the Geffen's intimate Audrey Skirball Kenis Theatre in May 2019 during his Invisible Tango show, you can bet I booked my "seat" for his latest show as soon as it was announced. And it's a good thing I did as the initial run sold out within an hour, which has led to a recently announced second extension through Sunday, Aug. 16.
'The Present' takes place virtually via a secure online platform with a maximum of 25 participants per show. Each participant is mailed a sealed mystery package in advance, the contents of which are only to be revealed during the course of each performance as Guimarães' story unfolds. In a unique twist, The Present provides both a virtual and physical experience for the audience, as magical illusions also take place in their own hands right before their eyes in the comfort of their own home!
Running 70 minutes, it's more than just incredible card tricks as The Present is inspired by Helder Guimarães' own life experience with quarantine during childhood. You see, when he was just 11 years old, Guimarães was crossing the street when he was struck by a car and thrown into the air, hitting the pavement so hard it caused an epileptic seizure which led to his hospitalization in a coma for three days. From there, he was sent home to recuperate with his grandfather while Guimarães' parents worked. Using his signature mind-bending illusions, Guimarães leads his audience through a funny, moving and ultimately illuminating story of life lessons learned, both in the present and via a very special gift he received from his wise grandfather.
Using Zoom technology, director Frank Marshall has Guimarães greet his at-home audience from what appears to be a small room in the magician's own home, filled with a few of his treasured mementos, several of which he seamlessly blends in his signature smooth style while sharing what can only be described as unbelievable sleight-of-hand playing card illusions.
In characterizing 'The Present,' Guimarães said, "There is something fun about overcoming obstacles with creativity. While theater isn't happening in the room we usually physically share, it lives in the spectators' mind, in their emotions, and in their perceptions. That's what we want to connect with." And trust me, if you have the chance to grab a ticket (one is good for an entire quarantined household), do it and be prepared to be dazzled in your own home by your own hands!
'The Present', written and performed by Helder Guimarães and directed by Frank Marshall, continues through Sunday, Aug. 16, on Tuesday-Friday at 8 p.m., Saturday at 3 p.m. and 8p.m., and Sunday at 2 p.m. and 7 p.m. Run time is 70 minutes with no intermission. Tickets are currently priced at $85 per household, available by phone at 310-208-2028 or online at www.geffenplayhouse.org. Given the unique nature and logistics of this production, tickets must be purchased at least 10-14 days in advance of any given performance date to allow for a mystery box to be received in advance of the live performance.