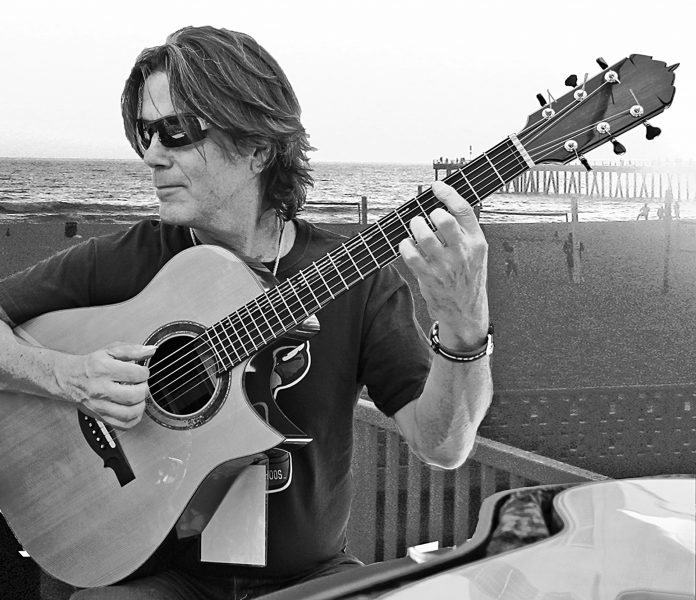 Michael Chapdelaine is a guitarist. Maybe as good as it gets when it comes to playing this instrument. His resume is impressive: he is "the only guitarist ever to win First Prize in the world's top competitions in both the Classical and Fingerstyle genres; the Guitar Foundation of America International Classical Guitar Competition and the National Fingerstyle Championships at the Walnut Valley Bluegrass Festival in Winfield, Kan."
Gary Mandell of Boulevard Music posts the following on his website preview of Chapdelaine.
"Michael continues to enchant, dazzle and surprise audiences and critics alike as he redefines the modern acoustic guitar with his amazing technique, "soulful" expressiveness, and versatility as a performer, composer and arranger/producer."
This is a master guitarist who can delight audiences with a steel guitar as easily as a classical guitar. He will give you his best blues sound, or if Bach is your style, he can play that, too, and keep you entertained for hours.
"In the '80s and '90s, Michael proved himself to be one of the world's finest classical guitarists; twice winning the coveted National Endowment for the Arts Solo Recitalist Grant, and taking First Prize in both the Guitar Foundation of America's and the Music Teachers National Association's Guitar Competitions. He also won the Silver Medal in Venezuela's VIII Concurso International de Guitarra 'Alirio Dia.'"
Just for the record, one of his teachers includes the great Spanish maestro Andres Segovia.
Chapdelaine performed at Boulevard Music on May 4 in Culver City.
The NEWS had to jet across the globe to catch up with him for a quick sit-down chat. Here is what he had to say.
Your beginnings: I started playing at 10. Got serious at 13, when it was apparent that sports wasn't going to work out and that playing in a band was a lot better way to meet girls. I didn't start writing until my 30s when the need to speak my own voice just presented itself. I started writing about my life in New Mexico, which was deeply inspiring to me, at the time.
Main influences: J.S. Bach, Jackson Browne, Kate Bush, Joni Mitchel, and Michael Hedges.
Your style: Solo, polyphonic, acoustic guitar. These days, they call it "Fingerstyle." I was a bit of purist-classical guitarists for a very long time, and heard Michael Hedges, in the '90s and decided that all this training and these skills, that I got from playing Bach and other classical composers could be used to communicate with a larger public.
Your present home? I am living in Boulder. I absolutely love it here. Most of my career is playing in other places but, I am starting to participate in the local music scene, which is very much alive. I just moved here last summer after three decades of being Professor of Guitar at the University of New Mexico. Cycling is the best part of the local scene. 100s of miles of discrete bike paths, 5 canyons to ride up into the Rockies and drivers who don't hate riders. It's paradise.
Best gig: Any and all concerts in Italy. Worst gig: My "Junior Recital" at Florida State University. I had just won the most prestigious competition in America and had become a local star, so it was one of the biggest student recitals that had happened at FSU. I didn't play as well as I expected and after the last piece, I snuck out of the building, before anyone from the audience could talk to me, and skulked back to my apartment. Things are much better now.
Recordings: I have ten or so albums. Discography is here: https://www.michaelchapdelaine.com/cds-physical-delivery-of-a-real-old-school-super-awesome-cd/
New to Boulevard Music? What can we expect on Saturday? I have played many times at Boulevard Music. It's always a joy. Gary (Mandell) is the consummate guardian and promoter of live music. I will be playing music from my own compositions, some pop tunes arrangements (from Beatles to GaGa) and some classical. A special treat is, my pal John Law, who has had several viral videos lately, will join me for a few tunes. I rarely listen to fingerstyle guitarists, but I love John's compositions and arrangements.
Future plans: I plan to get a bit more in step with the current internet way of reaching music lovers. I have made great strides with YouTube, but need to get more involved with the other ten thousand platforms. The world keeps changing and musicians have to work harder and harder. Still loving it!
Boulevard Music is at 4316 Sepulveda Blvd., Culver City. Log on at https://www.boulevardmusic.com/event or call 310-398-2583.