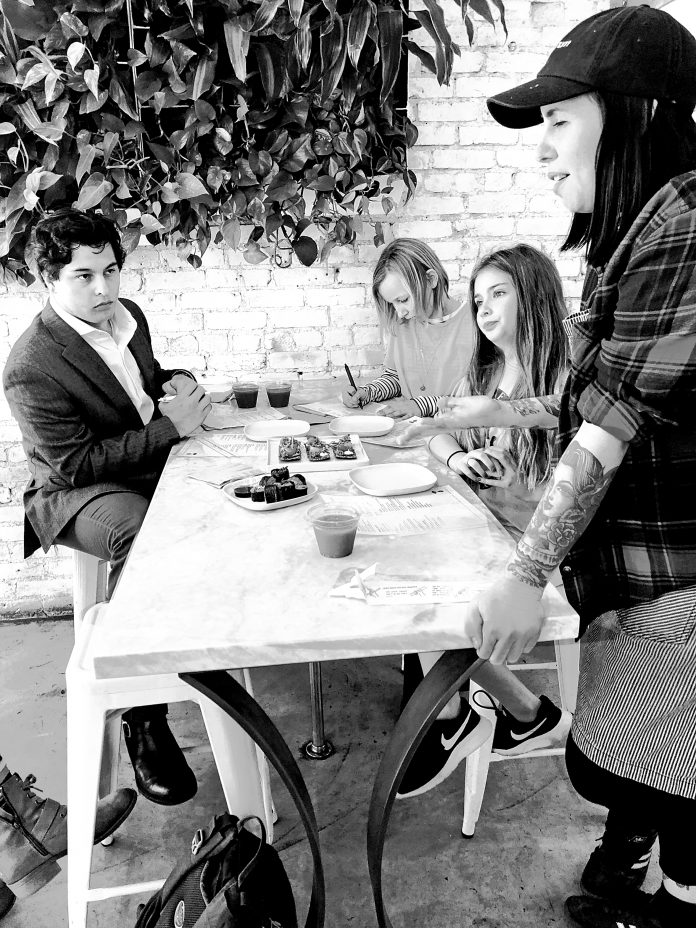 Make Out gets much 'love' from Kids Scoop Media
Young reporters take an adventurous route to
vegan café menu and are richly rewarded
By Aidan Cessor
Kid Scoop Media Correspondent age 16
Temporarily tucked away behind construction, Make Out is a cozy, little cafe that offers a wonderful experience into the world of veganism. The whole cafe is completely vegan and gluten-free, but that doesn't limit the delicious dishes Make Out provides.
Offering everything from smoothies to vegan pizzas and vegan nachos, Make Out has a wide range of selections to choose from. The majority of their items are raw, meaning that they are not cooked over 115 degrees.
As an omnivore, I was skeptical about the taste and quality of the food, but my reservations were shattered once the first dish was served.
My cohorts and I started with Pitaya smoothie, a refreshing blend of dragon fruit, coconut water, mango, and pineapple. The smoothie was a thick but creamy delight that paired well with the coconut water that allowed it to be rehydrating. We only got a sample of a smoothie, but with being one-third of the regular size, it was very filling.
The first actual meal we got was the spicy carrot roll, which was a sushi-inspired dish that was one of my favorites. The jalapeño cream plus the avocado made the center spicy, yet soothing. The carrots replaced the rice, so it added a great crunch to the dish. The next dish was vegan pizza. Instead of a crust, it was a walnut, zucchini, flax seed toast that had been dehydrated for two days. With vibrant green pistachio pesto and cashew ricotta topped with cherry tomatoes, this pizza had all the components of classic pizza, yet each had a unique twist that allowed the flavors to be fresh and invigorating. The walnut toast was dense in texture and flavor, similar to dark rye. The pesto was the best pesto I've eaten, as it didn't taste like pistachios, but it was definitely present as it added a robust body to the pesto.
Next, the nachos came out, which was the most surprising. It had butternut squash queso that tasted like real cheese. To replicate that famous, bright yellow nacho cheese without any dairy products is a feat that most couldn't accomplish. Finally, for dessert, we had a strawberry lemonade cheesecake. The cake was made out of cashews and a bit of coconut meat, while the crust was made out dates. A lemon wheel that had been soaked in maple syrup, dehydrated, then crumbled, topped this already complex treat. The cheesecake was so delectable and creamy that it was surprisingly creamier than most cheesecakes I've had. The dessert perfectly ended this delightful experience. The restaurant's ambiance also brought on this healthy, pure vibe, with the white walls, marble tables, and lush plants all around. For this little cafe that has been around for a few years, it has been doing well, but when the construction of the new plaza near the Culver Hotel is done, Make Out will definitely stand out as a great cafe that you can enter guilt free and exit without feeling bloated, but still being fully satisfied.
__________________
By Lily Maxson
Kid Scoop Media Correspondent, age 13
Make Out is a restaurant located in downtown Culver City that serves vegan, gluten-free, organic food. They are also available for online ordering on GrubHub and Postmates. The name "Make Out" was created because the first two letters of the owner's name (Matthew Kenney) creates the word M.A.K.E which was a former restaurant he owned in Santa Monica. Make Out is a version of Make that is easier to eat to-go, so you could say that Make Out is Kenney's healthier spin off-version of take out.
Matthew has other establishments in Los Angeles, Colombia, Australia and soon in Costa Rica! They also sell healthy snacks that you can purchase as a substitute to traditional fatty snacks you would usually take to the movies. The restaurant has been open since 2015, but not many people know about it, which is really a shame because their food is absolutely amazing!
Upon walking into Make Out, customers are instantly impressed by the thought put into the interior design. Everything is mostly white, with a pop of color added by lush green plants. The walls are decorated with two different white neon lights that give the room a calm, cool vibe, and the front wall is mostly composed of glass, which makes the whole area feel more open and roomy. All in all, the whole space gives off a clean, simple vibe that is very appealing.
But the set-up isn't the only part of Make Out that gives off a welcoming vibe- the people there do, too! The people who work there are like a family and they've been working as a team for years. Our tour guide was also the General Manager, Rachel. I was pleasantly surprised by how friendly, welcoming, and affable she was. Rachel was really knowledgeable about the art of healthy cuisine, and she was able to give interesting information about every question we asked her.
We were lucky to get to sample a wide variety of the most popular items on the menu. the Pitaya smoothie, Big Bear smoothie, carrot rolls, pizza flatbread, nachos, and seasonal cheesecake (currently strawberry lemonade flavored) were all incredibly appetizing and delectable. They were like an elevated version of basic dishes, and super healthy too! I was delighted to have the opportunity to enjoy the food served there and experience the flavor and pizzaz added to every bite.
The very best part of Make Out is that they are super eco-friendly and health-conscience. Not only are their dishes all vegan, gluten-free, and organic, but they also cook the majority of their food as "raw." This means it's cooked in a dehydrator, and the food retains all of its natural nutrients that are often lost in cooking. Their ingredients are locally sourced, and they serve their food on compostable plates! Contrary to popular belief, not all vegan food is healthy, but the people at Make Out care about their consumers' health and well-being.
Rachel described the experience of eating at Make Out as "the way you feel energized and satisfied after eating, rather than just wanting to go lay down on the couch." And customers couldn't agree more with Rachel — Make Out food makes you feel ready to accomplish anything!
In conclusion, Make Out is not just a restaurant, it's an experience! The food there is not only pleasantly delicious but also healthy and green! From the decorations to the employees, to the presentation on every plate, Make Out is marvelously put together. Even if you're not vegan, I would most definitely recommend stopping by Make Out and grabbing a snack and then revisiting again. I sure know I will be.