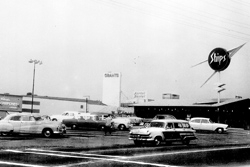 Culver Center, a post WWII development, was one of the first shopping centers in Southern California. Today's Ralph's was originally a Market Basket where many locals worked as "box boys." Women's clothing stores included Ames, Quist's, Her Nibs, Charlestons, Trend O'Fashion, Charlene's, Cindy's, Mode O' Day, and Anita's.
Other popular shops included Eskridges' Culver Center Flowers, the New Yorker Bakery, Bert's Men's Store, Lerner's, Crosby's, Hellman Hardware, Holland's Draperies, a Singer Sewing Machine Center, which became the House of Fabrics and Joann's. Sportsmen's Exchange, Western Auto, Center Deli, (later Lindy's) occupied space along with Karl's, Berland's, Comar's, Stride-Rite, and Paige Family Shoes.
There was a Culver Center Beauty Salon, shoe repair, cleaners, Gray's Jewelers, a Bank of America and Security Bank. The Culver Center merchants formed a strong association, and successfully fought a proposed Naradel development for a discount store and 40 retail stores on Washington and Overland.
In 1990s interviews with Ray Moselle, retired CCFD Batallion Chief, he related arriving by freight train for the 1932 Olympics. His brother, a professional fighter, lived in the Boxing Arena. In 1935 Ray swept the arena for rent money. The arena was on the Culver Center site where fighters like Fred Fulton, Jack Dempsey and middleweight Nish Kerkorian competed. Kerkorian's  brother, Kirk, who later bought MGM, was an amateur welterweight. Their parents owned a bar on Washington Boulevard near Adams. Fred Machado's uncle, Johnny McManus, also fought there.
On Monday nights, Mae West had a front row seat, next to Pearl Merrill, one of the owners of the Meralta Theater (and Saenz's sister), and Lorene Furrow, a young teacher who later married councilman Leroy Koos. With the movie studios nearby, many stars were regulars, like Lupe Velez, who was known to yell from her ringside seat, "You need to chop wood!" if a fighter was out of shape!
The Culver City Stadium burned down, but it had its place in history as Sy Saenz provided an athletic venue and helped a lot of boys get back on track.
Moselle remembered the area from Venice south as: Ed's Chili Parlor, (owned by the Hennarty family), Sy Saenz' Culver City Stadium, as well as a track and baseball field. Moselle pitched and my dad, Charlie Lugo, played third base for the Cardinals on that semi-pro baseball field. Ed's Chili Parlor, offered affordable meals. An old menu offered a "Special Spanish Dinner" for 75¢, consisting of "Soup, Salad, Chili Con Carne, Spanish Rice, Spanish Beans, Enchiladas and Fruit and Coffee." If you just wanted a bowl of menudo, it would cost you 35¢.
And the rest is history….