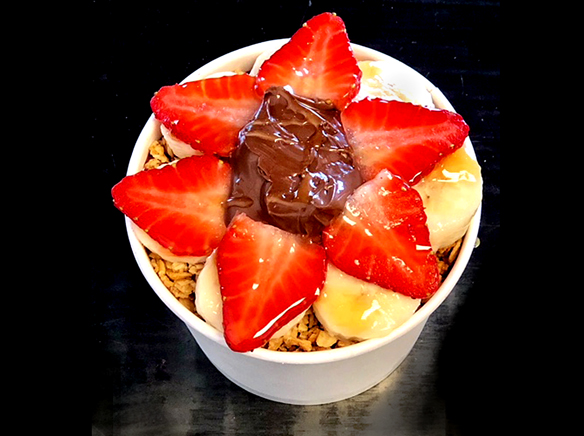 You can't help but notice the newer modern gray business on the corner of Washington Boulevard and Tilden, just east of Sepulveda. This well-known establishment boasts of a plethora of fruits, green leafy vegetables and even nut proteins to be beautifully blended into a sorbet type texture or a smoothie drink.
They also carry made to order coffee drinks, a variety of teas, coconut and cactus waters, and even satisfying snacks such as energy bars.
With a name like "Live Right Acai," thoughts of healthy eating immediately come to mind. Feeling both adventurous and hungry, I stopped in and was pleasantly surprised by the friendly and knowledgeable staff and the cheery atmosphere with plenty of places to sit.
After some explanation about the menu choices, the Tropical bowl sounded appealing. So, just what is Acai and what does it taste like? The pleasing flavor of the acai berry is described as a cross between a grape, a raspberry and a pomegranate.
These berries are harvested from palm-like trees in South and Central America and according to the Mayo Clinic, acai berries contain higher amounts of antioxidants than even blueberries, cranberries and strawberries.
To top it off, so to speak, the bowls come with three standard toppings, which include sliced fresh banana, crunchy granola, and honey. We also chose two additional toppings, Nutella and strawberries, for an extra cost. I wanted to get the most out of this bowl, so I asked to have protein blended in and for just $1 extra, chocolate pea protein powder was added.
I honestly didn't know what I was getting myself into with that amount of different ingredients. However, to my delight, the flavor combination was just perfect. The texture was silky smooth and not overly cold or icy, so it went down very easily. The symphony of flavors had me wishing I had ordered a large.
Some refer to these portable tasty bowls as a meal and rightly so. I literally was not hungry for hours and as an added bonus, I felt energized and refreshed. If you want a healthy meal to go, I would highly recommend stopping at Live Right Acai.