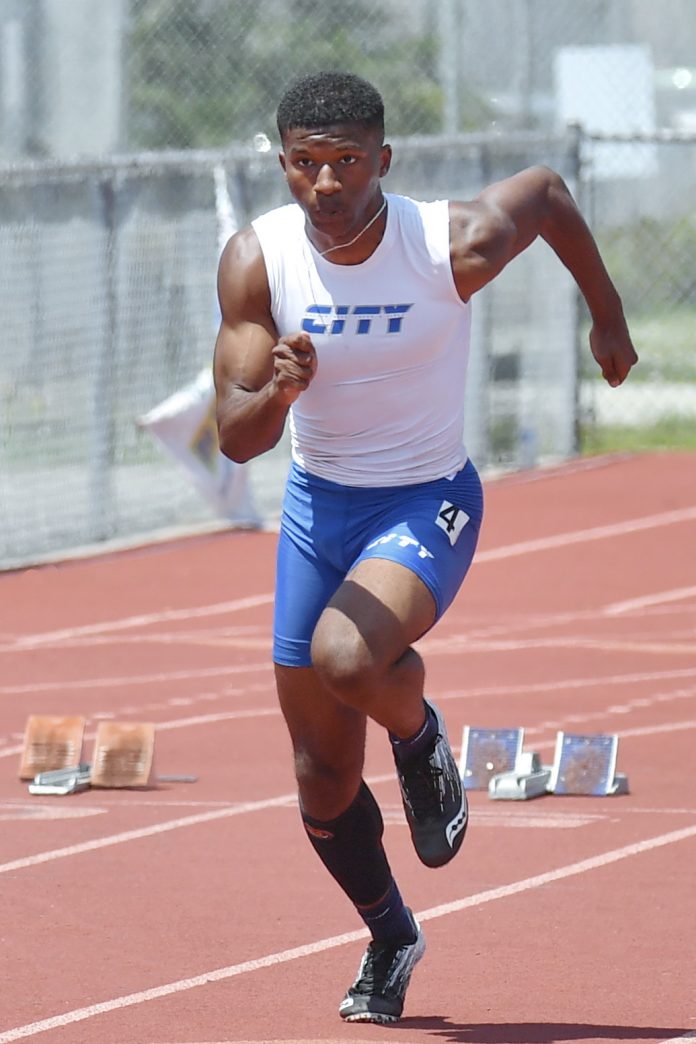 On the last day of sports competition for Culver City High School, the boys and girls track and field teams continued to keep Culver City in the Southern California sports spotlight. From the award-winning football team to the CIF finalist boys lacrosse team, the Centaurs maintained athletic excellence during the pandemic shorten sports season in 2021. 
Last Saturday at the CIF Southern Section Division 2 Track and Field championship finals held at Moorpark High School, Culver City placed two athletes on top of the prestigious CIF Southern Section awards podium.  
Senior Ayahna Bahati won the girls 100-meter hurdles in 15.15 and junior Zaire Waring placed first in the boys 400 meters in 48.36. The girls team placed fifth overall with a score of 34 points and the boys placed 13th with 13 points. There are 93 high schools in Division 2 track and field. That's pretty impressive.
Other runners that scored points for the Centaurs were Alero Soaris and Morgan Maddox in the girls 400 meters. Soaris placed third with a time of 56.42 and Morgan came in fourth with a time of 57.77. Morgan placed seventh in the girls 200 meters at 25.25 and Waring placed eighth in the boys 200 meters with a time of 23.02.
Culver City was also impressive in three relays. The girls 4×400 meter relay placed third with a time of 3:59.08 and their 4×100 meter relay placed fourth at 48.87. The boys 4×100 meter relay come in fourth at 42.75.
Running the girls 4×400 meter relay were Kennady Iverson, Alero Soaris, Beneen Funes and Morgan. The girls 4×100 meter relay team was comprised of Andrea Smith, Ava Belcher, Bahati and Soaris. Running the boys 400-meter relay were football stars Emari Pait and Ayinde Bankole, Jerin Stanton and Waring.
What's amazing about the 2021 sports season at Culver City is all the success was achieved battling the toughest opponent in sports history — COVID. The school administration, the athletic director, the school nurse, the athletic trainer, family members, players and coaches all played a pivotal role in keeping everyone safe.
"The key to success is to start where you are, use what you have and do the best you can," said the girls head track and field coach Rayfield Moses Beaton this week in a phone interview. "If you take what you have and do the best you can with it you will be successful and that's how I look at the pandemic."
Beaton continued to say, "I told the track teams we will get through the storm by being positive. We do not allow the elements to get inside the ship. If that happens the ship will sink. Everyone talks about the morning, but they don't talk about the sunset. It was a beautiful sunset last Saturday for the track teams."
Beaton has coached the girls' freshmen, sophomore and varsity track and field teams for seven years and last weekend he was finally satisfied. "All of the seniors ran their fastest times in the CIF Finals," said Beaton. "They saved their best for the last time they will wear the Culver City uniform. I am so proud of them. They ran like a team, and they acted like a team. You have to change the direction of kids and they will pick up their wings and fly."
Flying is exactly what Bahati did. She flew over the hurdles and walked away with the championship medal. "It feels amazing." said Bahati last Tuesday over the phone. "I don't really have words to describe it. I am really happy, actually. Being a 100 meter hurdles champion is a dream come true."
Bahati has been a star hurdler at Culver City for four years, but this year, she finally put it all together. "I knew my senior year that I had the potential to be a CIF champion. Coach Beaton kept telling me how good I was and this year I started really believing in myself."
Bahati will attend George Fox University in Newberg, Oregon in the fall. It's a small Christian college near Portland. "If I work hard, I hope to transfer to a bigger school in one or two years and run track," she said.
Soaris is another athlete that was a star on the track at Culver City for four years. "Track has always been something that I have enjoyed and something that has been a part of my life."
Soaris is amazed at all the admirers she has picked up over the course of her career. "When you have strangers coming up to you and telling you that you really run fast, that's when I knew, maybe I am a really a good runner. When people in my generation started coming up to me and saying good things about me it was special. It's really nice to meet people that way."
A lot of athletes play or run on club teams and according to Soaris, that's what makes the Centaur team so special. "Most of us have been running track a long time so it's easy for us to come together as a team."
When athletes get exposed to good coaching at an early age, when they get to the high school level, they are less sensitive to demanding coaches and that's why Soaris and coach Beaton have a special relationship. "I have known coach Beaton for a long time," she said. "He is a great coach. He is a great person and a great coach, and you can tell he really cares about you. He yells at us in a caring way. I have nothing but good things to say about him."
Soaris plans on running in college and maybe running professionally but while she is in college, she wants to major in computer science. "In college I would also like to study human behavior to see how we interact with one another."
Under the direction of the boys' head coach, Jahmal Wright and Beaton make sure you tune in to another episode of Culver City track and field in 2022 and look for more Centaurs to stand on top of the CIF Finals track and field podium.