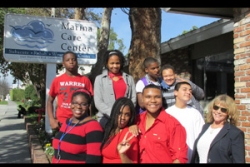 The morning of Friday Dec. 19 was extra special for a group of students from ECF Kayne Eras Center. The students walked from their campus on Machado Road and Jefferson Boulevard, around the corner to Marina Pointe Healthcare & Subacute on Sepulveda Boulevard to sing for the senior citizens being cared for on site.
"It felt good to sing and wish them a merry Christmas," Vernell, a student at ECF Kayne Eras School, said. "I was happy to see them have a good time."
This is not the first time Kayne Eras students have sung there; however, it's been approximately two years since the students have visited for a musical performance.
"The students used to go about four times a year, and carol, and other performances in their big room," Francziska Steagall, with KEC said. "We've been doing service there for about ten years through the Milken Family Foundation's Festival for Youth Community Service Program. They have been supporting us with this project for maybe twelve years now.  "
KEC is a comprehensive educational and therapeutic service center with specialist in special education, psychology, marriage and family therapy, social work, speech and language pathology, early childhood special education, occupational therapy, music and art therapy, and behavioral intervention.
"It felt pretty good to sing for them and give them hope," Adreanna said.
Students at KEC tend to be referred by their local school district through what is known as an Individualized Education Report. KEC accepts referrals from most local school districts and charter schools. KEC students visited the senior care center, which is a nursing facility in Culver City that provides 24-hour skilled care. The site also specializes in providing on-site rehabilitation service with the goal of assisting residents in regaining independence in order to return home.
During the past years the projects at the Marina Care Center have included engaging the kids in art projects, thematic/holiday performances, making pillowcases and garden care.
"The succulent garden with pots and stepping-stones and mulch are our work," Steagall said. "This year, our grant includes the garden project, in honor of Delores Montgomery our special friend, and the caroling. We prepared for the caroling by rehearsing for our own holiday show, which was held the Wednesday prior. So the students were definitely in the mood."
While the students do not sing elsewhere, Steagall says that they had such a good time that there are plans to return near Valentine's Day and sing love songs such as "My Girl."
Singing on Friday Dec. 19 were: Vernell, Justin, Deangelo, Adreanna, Jonisia, Sergio, Hyatae and Brandi, with their instructors Sarah Taylor and Steagall.