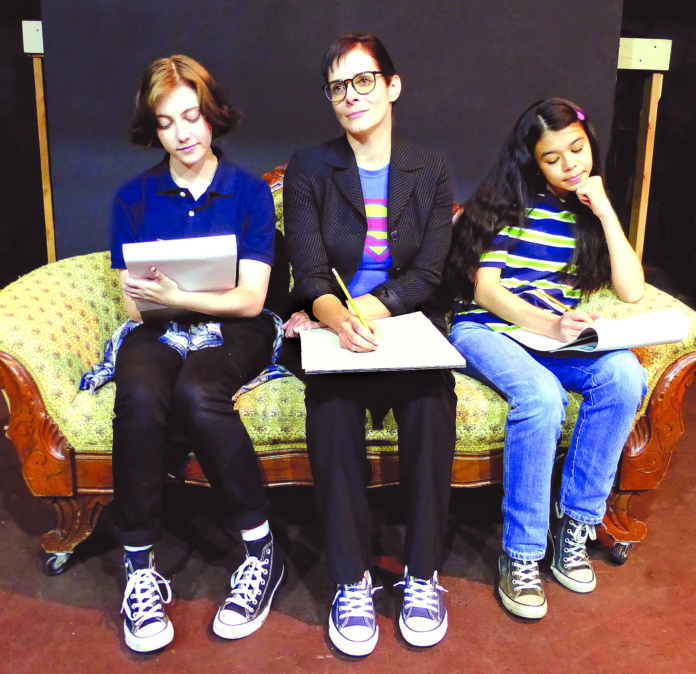 Kentwood Players opens the musical FUN HOME with book and lyrics by Lisa Kron, music by Jeanine Tesori, based on the graphic novel by Alison Bechdel, this Friday, May 13 through Saturday, June 11 on Fridays and Saturdays at 8:00pm and Saturdays and Sundays at 2:00pm at the Westchester Playhouse, located at 8301 Hindry Avenue in Westchester, CA 90045. Please note there will be no performances over Memorial Day Weekend, May 27-28-29, with one pay-what-you-can performance on Saturday, May 14 at 2pm. Directed by Kathy Dershimer with musical direction by Cheryl Gaul, and produced by Jenny Boone and Harold Dershimer for Kentwood Players with rights secured from Samuel French, Inc., a Concord Theatricals Company, the cast features in alphabetical order: Natalie Cayetano, Amelia Fischer, Nico Fisher, Grant Ruckheim, Julia Sison, Jon Sparks, Ryver Townsend, Amanda Webb, and Dana Weisman.
Winner of the 2015 Tony Award for Best Musical, Best Original Score, and Best Book of a Musical, FUN HOME is a refreshingly honest, wholly original musical about seeing your parents through grown-up eyes. When her father dies unexpectedly, graphic novelist Alison dives deep into her past to tell the story of the volatile, brilliant, one-of-a-kind man whose temperament and secrets defined her family and her life. Moving between past and present, Alison relives her unique childhood playing at the family's Bechdel Funeral Home, her growing understanding of her own sexuality, and the looming, unanswerable questions about her father's hidden desires. Please note due to Mature Themes, Parental Discretion is Advised.
Reserved seat tickets are $27 with a $2 discount for seniors and students, available by either visiting www.kentwoodplayers.org to purchase online and book your reserved seats, emailing the box office at boxoffice@kentwoodplayers.org or calling (310) 645-5156, preferably during box office hours, Wednesday through Saturday from 4:00-7:00pm. Emails and all phone messages will be answered in the order received to confirm your ticket(s). Available tickets will be sold at the box office beginning one hour prior to each performance. COVID-19 Policy: Everyone ages 12 and over must show proof of vaccination and photo ID for admittance. Face masks are recommended but optional indoors. This policy will be updated following Covid safety protocols as set by the city and county of Los Angeles.
Free street parking is available on 83rd Street and in the adjoining neighborhood, but not on Hindry Avenue, with left turns restricted on the corner of Hindry and Florence due to the new Metro train station crossing. At some performances, a free parking lot located across Hindry Avenue next to the Metro tracks will be available for patrons. Please read all traffic and parking signs carefully. For more information, please visit the Kentwood Players website at www.kentwoodplayers.org. You can also find Kentwood Players information on Facebook, Twitter, Instagram and YouTube.
Broadway in Hollywood is presenting the L.A. premiere of TOOTSIE in Hollywood at the Dolby Theatre from April 26 to May 15, featuring a hilarious Tony®-winning book by Robert Horn and an outrageously clever score by 2018 Tony-winner David Yazbek (The Band's Visit, Dirty Rotten Scoundrels). The national touring company then plays in Costa Mesa at the Segerstrom Center of the Performing Arts from May 31 to June 12.
Based on the story by Don McGuire and Larry Gelbart and the Columbia Pictures move starring Dustin Hoffman in the cross-dressing title role, TOOTSIE is a laugh-out-loud love letter to theatre, telling the story of Michael Dorsey, a talented but difficult actor who struggles to find work until one show-stopping act of desperation lands him the role of a lifetime. But while the film cast Michael as Dorothy Michaels in a popular television soap opera, the stage musical has Michael (Drew Becker) get the role of Juliet's Nurse (as Dorothy) in a Broadway musical adaptation of Shakespeare's play. So of course, he falls for Julie Nichols, the actress portraying Juliet, with Ashley Alexandra bringing enough wide-eyed innocence to the role to make the budding romance between two women believable.
Standouts in the cast include Payton Reilly as Sandy Lester, the talkative co-dependent actress looking for the right man around whom she can center her life. Her quick-paced "What's Gonna Happen" number was very entertaining and performed to perfection. But as much as she would like Michael to be the man of her dreams, that is not a role he is ready to play. Michael's roommate and playwright hopeful Jeff Slater (Jared David Michael Grant) enjoys watching his friend fail at everything he tries, knowing full well Michael's success as Dorothy will be short-lived when his secret comes out, as secrets always do. Kathy Halenda as Broadway producer Rita Marshall, Adam Du Plessis as the Broadway director and uber diva Ron Carlisle, Lukas James Miller as lead actor wannabe Max Van Horn, and Steve Brustien as Michael's agent Stan Fields all add entertaining comedic characterizations to the production.

TOOTSIE is directed by Dave Solomon with a live 12-piece orchestra, movable scenic design by Christine Peters, and costumes designed by William Ivey Long which allow for Michael/Dorothy's many quick changes. The production is entertaining but lacks the real pizzazz of a true Broadway musical, missing a much-needed more flashy actor in the title role. Covid vaccinations are not required but masks must be worn indoors. Tickets are $89-$69, with great seats at $39 for some performances (use code SPIN39) at https://www.broadwayinhollywood.com/events/tootsieupdates/tootsie39