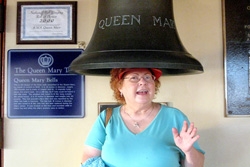 When it comes to vacations, most of us make plans to get out of town. So this year my boyfriend and I decided to take a short vacation and stay in Southern California and visit a few places on our bucket list. After all, this is one place people from around the world want to visit so there must be new places to visit even though I am a native Angeleno who has traveled around the area since I was a small child.
One such place I always wanted to visit is the Queen Mary, a magnificent ocean liner that arrived in Long Beach Harbor on Dec. 7, 1967. It seems amazing I had never visited her before but it's true. And while I have had many invitations to attend Dark Harbor around the Halloween Season since I have always been interested in the paranormal, I never wanted to be scared that badly by things jumping out at me in the darkness. But I have wanted to go on a tour of the Haunted places on the ship, especially as it has been advertised as one of the most haunted places to visit on Earth.
The Ghosts and Legends Tour is closed up upgrades right now, so we first went on the Haunted Encounters Tour which covers the same areas of the ship without experiencing any of the "special effects."  But no matter as the tour we took was led by Daniel Tennant, a long-time tour guide for all the paranormal tours. His knowledge of the ship made me feel as if I was visiting his (very large) home which he knew like the back of his hand.
While on that tour, we were taken to various areas/rooms on the ship where many have seen or heard what can be only called paranormal events. Perhaps they are ghosts of people who died on the ship or perhaps the ship contains a vortex to another reality where spirits come through to walk around ours. No one knows for sure, just that these visions have been seen by passengers and staff alike. It's a most fascinating tour during which Daniel added to the spooky environment with his great vocal variations, especially when he shared his own first-hand experiences seeing visions of people who were not really there – sometimes even walking around during his tours. I was hoping, but no visitors came out to greet us this time!
Paranormal sightings that still continue to this day include the Lady in White who is the most frequently seen "spirit" walking around the ship. She never says anything nor does she attempt to harm anyone, but has appeared in several locations and then vanished.
Daniel went on to take us to the 3rd class main staircase which is so steep, when the ship was rocking it often went upright and threw people from it against a wall. One of the two people who died on the staircase during such an event is thought to be the Man in Black who has been seen 24 times walking the stairs, once by Daniel in 2012 during one of his tours.
He also took us past what is now a closet where children's laughter is often heard. Turns out it was originally the third-class nursery. Then we visited the infamous Suite 340, the most haunted hotel room aboard the ship. Perhaps the visitor was Walter J. Adamson, who died in the room in 1948, though the cause remains a mystery. After many chilling stories about the bathroom water turning on by itself during the night to hearing about bed covers pulled off sleeping female passengers with one hearing a man's voice telling her "I'm cold," it's easy to understand why the room has been stripped of all furnishings and lays vacant, no longer used for anything other than a tour stop. And just wait until you hear about how on Oct. 2, 1942, the ship split another in two, and many of the souls who died that day can still be heard screaming in the small room just inside the bow or from levels below still tapping out SOS in Morse Code.
But the spookiest place of all was the first-class indoor swimming pool, home to the ghost of a very young girl who runs around the space laughing. No one has been able to figure out who she is as there is no record and any child having drown, been lost or injured there. She just appears in her pinafore dress, running around the pool with her chilling laughter bouncing off the walls. The reverberation of sound in this space made her story even more creepy when Daniel told us he had seen her the one time as a new employee he walked through this room alone. Soon the even more scary Ghosts and Legends tour will return during which special effects make each stop along the way even more frightening when the spirits being described, such as this young girl, actually pop out to visit.
After the Haunted Encounters Tour, we watched a 4D movie about the Earth's Shallow Waters created by the BBC. Besides the 3D movie of many fish and other swimming wonders, we were often spritzed with water, felt the wind and the waves, creatures moving around our feet, and even small fish bumped into our cheeks while trying to escape being eaten by whales and seals. The gasps and laughter from the audience made what we were seeing seem all the more real. Kids will especially enjoy the Sponge Bob 4D movie enhanced with these physical effects.
The second tour we took was called The Glory Days during which we walked through many rooms on the Promenade Deck from bow to stern, taking a deeper look into the ship's history from her construction to launch through her passenger service days as well as carrying troops during WWII. Models of many sister ships to the Queen Mary were fascinating as they allowed us to see into all the rooms with their original décor. I loved walking out the Promenade Bar where we could feel the sea breeze on our faces while gazing over the bow, almost as if we were out on the open sea.
We also spent some time wandering around the ship on our own, even winding up in the massive engine rooms at its lowest level. It was easy to imagine the amount of noise and heat being generated in the engine and boiler rooms and why 1,300 crew members were needed to keep the ship at sea ready for anything, be it passengers or icebergs. I learned that after the sinking of the Titanic, laws were changed requiring all ships of any size to have enough lifejackets and lifeboats for all aboard.
I recommend taking a full day to visit the Queen Mary, and even then I don't think you could possibly see everything aboard. Many first-class staterooms have been turned into a hotel where you can arrange to stay in the Winston Churchill Suite, his favorite room when aboard for ocean crossings. And as you walk around, look at all the historical photos on the walls of famous Hollywood stars who sailed on the ship including Fred Astaire, Laurel and Hardy, Elizabeth Taylor and her two poodles, Bob Hope (back and forth from USO trips), Robert Montgomery, Loretta Young, and so many more!
And remember – before there were airplanes in service across the Atlantic, the Queen Mary was the only way to go back and forth between Europe and America. When jet airplanes were able to make the crossing, this fabulous ship was retired from service, purchased at auction by the City of Long Beach where it has become a very popular tourist attraction. The magnificent ship still sits on water even though she will never again set sail.
The iconic 1936 ocean liner/now hotel is moored at 1126 Queens Hwy, Long Beach. Plan your visit by calling 877-342-0738 or visiting www.queenmary.com. And as you are walking around the Promenade Deck, take a moment to imagine well-dressed passengers strolling around such a magnificent ship, so rich in historical significance, right in our own backyard!