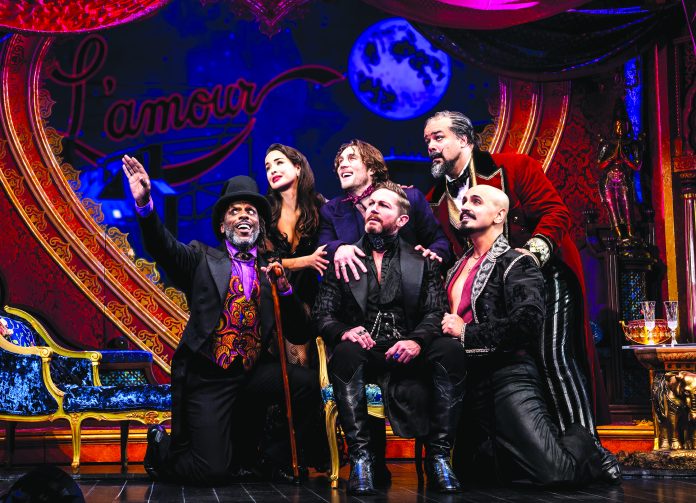 MOULIN ROUGE! THE MUSICAL won 10 2021 Tony Awards including Best Musical following it opening at the Al Hirschfeld Theatre in the Summer of 2019. It reopened in September 2021 following the shutdown of Broadway due to the pandemic.
And now Los Angeles area audiences can experience all the theatrical magic of Broadway at the Hollywood Pantages Theatre through Sept. 4 and at the Segerstrom Center for the Arts in Costa Mesa Nov. 9-27.
Baz Luhrmann's iconic film comes to life onstage, brilliantly directed by Tony Award winner Alex Timbers, with a book by Tony Award winner John Logan, choreography by Tony Award winner Sonya Tayeh and music supervision, orchestrations and arrangements by Tony Award winner Justin Levine. Remixed in a new musical mash-up extravaganza, this theatrical celebration of Truth, Beauty, Freedom, and – above all – Love – is more than a musical; it is a state of mind into which all are welcome.
It's a great way to leave your troubles outside for a few hours and celebrate over 160 years of music from Offenbach to Lady Gaga, featuring many of the iconic songs from the movie and recent hits released since it premiered 21 years ago.
I guarantee you will lose track of all the great rock song snippets in this incredible musical spectacular, all taking place in a world of splendor and romance, eye-popping excess, glitz, grandeur and glory in a world where Bohemians and aristocrats rub elbows and revel in electrifying enchantment.
The cast of 35 is led by Courtney Reed as Satine, Conor Ryan as Christian, Austin Durant as Harold Zidler, André Ward as Toulouse-Lautrec, handsome David Harris as The Duke of Monroth, Gabe Martínez as Santiago and the luminous Libby Lloyd as Nini, who will steal your attention each time she is featured in a dance number.
All of these wondrous triple- threat performers parade costumes designed by Tony Award winner Catherine Zuber that run the gamut from the poorest to the wealthiest Parisians not only inside the Moulin Rouge but also on the surrounding Montmartre district streets.
Produced by Carmen Pavlovic, Bill Damaschke and Gerry Ryan, the design team also includes the mesmerizing set design by Tony Award winner Derek McLane whose movable pieces often seem to melt together in front of your eyes, spectacular lighting design by Tony Award winner Justin Townsend, and sound design by Tony Award winner Peter Hylenski. Their incredible skills combine to create one of the most spectacular and visually stunning musical productions I have ever seen.
Tickets start at $39 for Moulin Rouge! The Musical at the Hollywood Pantages Theatre at 6233 Hollywood Blvd., Los Angeles, Calif., through Sept. 4 on Tuesday – Friday at 8 p.m., Saturday at 2 p.m. and 8 p.m., and Sunday at 1 p.m. and 6:30 p.m. There is a maximum purchase limit of 14 tickets per household for the engagement, limited to children ages 12 and older. Tickets may be purchased at BroadwayInHollywood.com and Ticketmaster.com, by phone at 800-982-2787, or at the Hollywood Pantages Theatre box office.
There is also a lottery for free tickets at broadwayinhollywood.com/events/tickets- events/lottery. Run time is 2 hours and 45 minutes including intermission. Masks must be worn at all times indoors but vaccinations or negative tests are not required. Performances at the Segerstrom Center for the Arts at 60 Town Center Drive in Costa Mesa, Calif., take place Nov. 9-27 on Tuesday – Friday at 7:30 p.m., Saturday at 2 p.m. and 7:30 p.m., Sunday at 1 p.m. and 6:30 p.,. with an additional 2 p.m. matinee on Thursday, Nov. 10. Tickets start at $31, available at SCFTA.org or by phone (714) 556-2887.
ALSO: The Wallis Annenberg Center for the Performing Arts presents pianist and actor Hershey Felder in the premiere of HERSHEY FELDER: Chopin in Paris directed by Joel Zwick through Sunday, July 24 in The Wallis' Lovelace Studio Theater. Following his last live performance at The Wallis in 2019 as Claude Debussy, audience favorite Felder returns to live in-person performances portraying Fryderyk Chopin in a performance set in the brilliant Polish composer's Paris salon as he teaches a piano lesson that actually took place in March 1848 just days after the February 1848 revolution sparked by social and political discontent. As the lesson unfolds, Chopin reveals secrets about the art of the piano, composition, and his personal life including his mental health struggles.
Delving deep into the music and psyche of the man, Felder performs some of the pianist- composer's most beautiful and enduring music. His vast knowledge of Chopin's life and compositions is challenged by random questions from the audience during each performance about his short life (Chopin died at 39) as well as his music and that of his contemporary composers. This interactive aspect of the production guarantees each vastly informative and entertaining performance will be unique in its content, highlighted by Felder's ability to think on his feet and answer questions, often accompanied by playing a requested selection on the piano. And at the performance I attended, Felder actually broke into laughter several times when answering questions, flashing his gorgeous smile to the delight of the audience.
Ticket prices are $39-$99 per person. The Wallis Annenberg Center for the Performing Arts is located at 9390 N. Santa Monica Blvd, Beverly Hills. For tickets and information, call 310-746-4000 or visit TheWallis.org/chopin. All patrons are required to provide proof of full vaccination or a negative PCR test result within 48 hours or a verifiable Antigen test within 24 hours from your performance date, along with a government issued photo ID. Facial masks, covering both the mouth and nose, are required at all times within the venue.