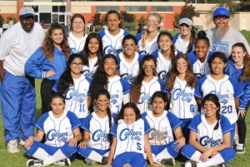 If the first few pre-season softball games are any indication, the Culver City girls' softball team may be ready to accomplish something special this year. The 2015 team is combining young talent and veteran leadership to develop a combination that might lead to one of the top three spots in the Ocean League and a playoff berth.
The Centaurs are currently 2-0 and they play three more games this week.  They travel to Leuzinger for a 3 p.m. game today, they return home for a 3 p.m. contest on Friday at Vets Park against Notre Dame Academy and they will play at Beverly Hills on Saturday.  The time of the game at Beverly Hills will not be available until Friday.
"Our young players are blending in with the veteran players this year," said longtime Culver City coach John Sargent.  "We are still a long way away from what we have to do. We have to keep working hard every day."
In sports, sometimes the young players are not serious.  Sometimes they don't understand that high school sports is the beginning of a level where scholarships can be won or lost on one play.  Attitudes and the way the game is approached is also very important. With a good coaching staff and strong team captains the end result will be satisfying.  Culver City appears to have that combination this year.
Breana Dunlap, Melody Rodriquez, Lissa Serna and Alex Thomas are the Lady Centaur captions this season.
"Our captains provide strong leadership," said Serna after their 6-2 victory over Palisades last Tuesday. "We have a lot of talent on this team and we are bonding very nicely. The freshmen girls that have come into the program are really focusing on what we are trying to do. We are all just coming together as one. We communicate really well. If one of us is down all of us has to pick that person up. Also our subs are just as important as the starters."
 Serna, a senior is a four-year varsity player. However, there are several freshmen but they are playing well, especially back catcher Eva Fairbanks.  The six-foot tall Fairbanks has a very strong arm.
"I have been playing softball since I was five and I have been playing catcher since I was nine," said Fairbanks.  "I have really been focusing on throwing runners out from my knees and I have also been working on my mental determination to become a better leader."
Another young player on the Culver City team is sophomore Mariko Rooks.  Rooks had three hits and three RBI's and scored a run against Palisades on a very special day for her.
"It was nice to get a win on my birthday," said Rooks. "I really like this group of girls that we have this year. I think we really work well together as a team and we get along really well off the field."
Assistant coach Duane Briggs, who has coached a lot of Culver City softball teams, likes what he sees in the 2015 team.
"This is a fantastic team," said Briggs.  "They are young but they have a lot of energy.  If we stay healthy, play solid defense, get key hits and good pitching we should challenge Santa Monica, El Segundo and Hawthorne for the Ocean League title."