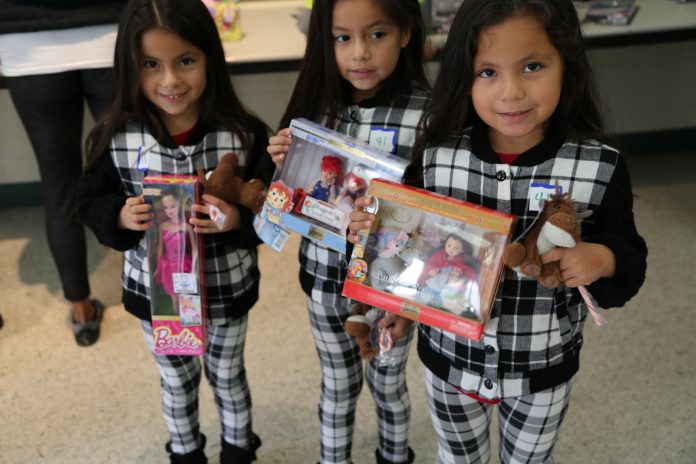 An annual holiday event is planned for Saturday, Dec. 15 in Culver City's Teen Center to provide toys and gifts to kids this holiday season, and to help ensure that children, as well as their families, have some basic necessities.
'A Child's Dream CA' founder, Cassandra Steptoe-Sampson said that her nonprofit has been providing much-needed food, school supplies, holiday gifts and more to families and children throughout Los Angeles County, including South Central Los Angeles, Culver City, Wilmington, El Monte and North Hollywood since her organization began in 2013.
She said the company's goal is "to remind families that they are not alone; they have a partner that is running alongside them."
"We are not just distributing toys, food, personal and personal hygiene products; we are distributing hope!"
The Culver City Fire Department has teamed up with 'A Child's Dream-CA' to provide some of the toys for the outreach this year through its 'Spark of Love' program. 'CHiPs for Kids Toy Drive' has generously supplied many as well.
Items still in need of donation from the website's wish list include canned and dry goods, socks, shampoo, toothpaste, toothbrushes, etc. In addition, hygiene products like makeup kits for girls and grooming kits for boys are on the list.
Holiday gifts for children that are being accepted include gift cards, board games, skateboards, bicycles and movie passes.
'A Child's Dream-CA' has reached the Gold Level in GuideStar's Exchange, which is a program that encourages transparency among nonprofit organizations, with the Gold Level being the highest obtainable level.
Transparency in finance, strategic planning, and program results are among the qualifications for this honor. GuideStar USA, Inc. is service "specializing in reporting on U.S. nonprofit companies" according to Wikipedia.
To see the complete listing of suggested presents and basic needs, please visit https://www.achildsdream-ca.org
Those interested in attending the giveaway are encouraged to arrive early and to register at eventbrite.com. It will begin at 11 a.m. – 2 p.m. at the Culver City Teen Center which is located at Veterans Memorial Park at 4153 South Overland Avenue, Culver City, 90230.