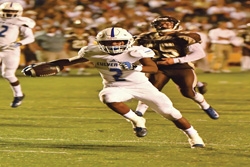 The Culver City varsity football team hopes to record its first win of the 2016 season when it battles Torrance on Friday. Kickoff is set for 7 p.m. inside the Jerry Chabola Stadium on the Culver City High School campus.
After dropping the season opener 34-33 to West Torrance last Friday, the 0-1 Centaurs found out that they have a very good offense, but the defense will have to improve if they expect to finish the season with a winning record and contend for the Ocean league title.
"There are things we need to fix but we showed we have some fight in us," head coach Jahmal Wright said after the loss to West Torrance. "In crucial situations I need to get my team better prepared. We came unglued a little bit in certain situations but these are things we can fix. You still have to give West Torrance a lot of credit. It's a well coach team. It's tough to lose to them five years in arrow but we will bounce back."
Speaking of bouncing, the Centaurs discovered a player that was bouncing and running all over the field in sophomore Kevin McGuire. The 5 foot 8 inch, 165-pound wide receiver is one of the most exciting players in recent Culver City football history. He catches passes and return kick offs and punts. "[McGuire] is a special talent and we are going to have to find ways to try to get him the ball more. He had his coming out party tonight, that's for sure," Wright said.
McGuire, who also runs track, has been playing football since age 6.
"It feels good to be compared to some of the best players in Culver City history," McGuire said, after the West Torrance game. "I work hard and I try to practice hard. I do extra things that help me get better."
Another player that had his coming-out bash last Friday was wide receiver and defensive back Charles Ross. The 6 foot, 170-pound Ross has outstanding leg spring, which allows him to outleap his opponents for the ball. "I love to go get the ball on offense and defense," he said.
Ross also realizes the key to winning games starts on the practice field. "We have to practice harder and that will help us win games," Ross said. "We also need to play hard on every play and don't give up. If everyone does their job we will have a good team."
Longtime assistant coach Cornell Myles was disappointed by the outcome, but pleased with the effort against West Torrance. "What we are going to take from this game is that this team has character," he said. "We were down but we fought back. We had a lot of missed tackles and blown assignments but we kept fighting. These kids are fighters."