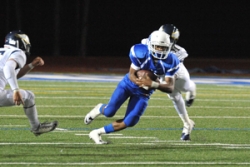 The Culver City football team is looking for that light at the end of the tunnel on Friday night when they battle rival Santa Monica on the Jerry Chabola Field on the Culver City campus at 7 p.m.
The 0-7 Centaurs are looking to upset the 3-4 Vikings after a loss to a veteran El Segundo team 41-0 last Friday. Santa Monica was beaten by Lawndale on the last play of the game 20-19 and is looking to rebound from the loss.
"In the beginning of the game we fought hard," Culver City Coach Jahmal Wright said. "I thought we showed some character against a good team. I saw some things we can build on. We are playing a lot of young players so it will not always be this way. It's a process. We are taking our lumps now but we will get better. You also have to take your hat off to El Segundo. They are a very good team."
El Segundo is 7-0 and is led by one of the best quarterbacks in Southern California, Lars Nootbaar. Nootbaar threw for 219 yards and three touchdown passes against an exhausted Culver City defense.
"We started out playing some pretty good football," assistant coach Cornell Myles said. "We played good defense in the first quarter and we drove the ball down the field but we could not score. After that the offense struggled and when that happens it puts a lot of pressure on the defense. We need to figure out a way to get the ball in the end zone."
When the defense is on the field they play hard but the problem is they are on the field to long, which creates a multitude of problems against good offensive teams like El Segundo.
"It's a special team that is senior heavy," El Segundo head coach Steve Shevlin said. "We got to the CIF finals last year. This is a very close knit group. Three years ago this group started slow and now we are a very solid team. Laars is a very special player. He can run and throw and he is one of the best quarterbacks in the history of the school."
Football is a team sport so if the Centaurs expect to beat Santa Monica, the offense, defense and special teams will need to play like they did in the first quarter against El Segundo.
"The first quarter we played the best football of the season," longtime assistant trainer Tom Nakayama said.
For most if not all of the Culver City players, the Santa Monica game will be the first time they will play against a girl varsity football player. Storm DeBarge kicks extra points for the Vikings. Maybe this will be the first time the Centaurs taste victory this year.