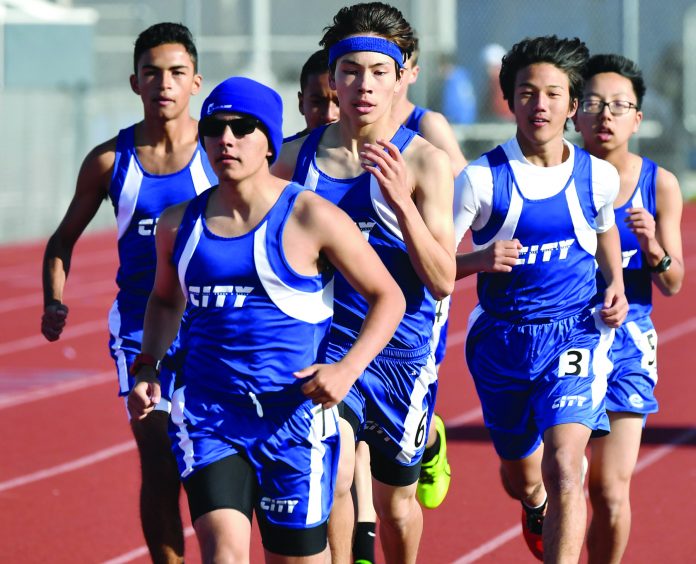 The Culver City girls and boys track and field teams are moving in the right direction. The frosh/sophomore girls and boys teams are unbeaten and the girls and boys varsity teams are also undefeated so far this year. All four teams will showcase their talent on Saturday at the Mira Costa Mustang Relays. The meet starts at 10 a.m.  Next Thursday, March 21, the Centaurs will compete in a dual meet against El Segundo at Culver City at 2:45 p.m.
"The season is coming along well," said head coach Jahmal Wright after practice on Monday. "We are running well and our early season times look good for the boys and girls. We are off to a good start."
The Mustang Relays on Saturday is always a good measuring point for the Centaurs because a lot of good teams will be competing in the meet.  "We will have a full contingent at the meet on Saturday," said Wright. "Everyone will be running and jumping. We want to showcase our teams."
Wright is happy with the progress in the sprints so far this season. "In the sprints, we are ahead of the curve. The ladies and boys are running well in the sprints and all four of the 4×400 and  4×100 relay teams are running well."
The field events need to improve according to Wright. "We are doing okay in the field events. We don't have a lot of depth but we will be alright. We have some very good athletes on the team."
In the hurdles, the girls are very strong with Ayahna Bahati and Alexandria Williams leading the way.  The distance runners are improving and the teams are hoping to peak in April when they get ready for the Ocean Finals and CIF.
In other Culver City sports, the baseball team is currently 9-1 and they travel to Santa Monica today, Thursday for a 3:15 game. They play Hawthorne on Saturday at 2:30 at home and the face Lawndale at on Tuesday at 3 p.m. at home.
The girls' softball team is currently 4-4 and they face El Segundo at home on Tuesday at 3:15 p.m. The boys' volleyball team is 3-9 overall and 2-1 in the Ocean League. They battle Santa Monica today, Thursday at home at 3:15 p.m. and they travel to Lawndale on Tuesday for a 3 p.m. match.
The 5-1 girls' lacrosse team plays El Segundo at 6 p.m. today at home and they travel to Downey on Wednesday. The boys' lacrosse team travels to San Diego on Saturday to face Patrick Henry and they stay on the road against Downey on Wednesday.