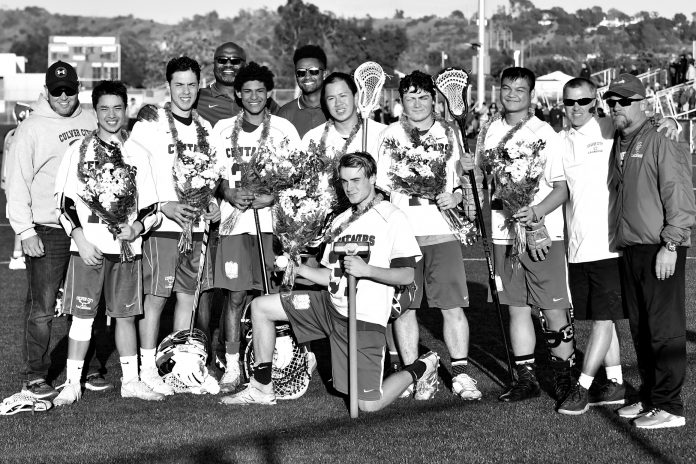 By Steve Finley and George Laase
League action continues to dominate Culver City sports. Five different sports are looking to make the CIF playoffs in May that's why games, matches and meets this week are very important.
The baseball team is 13-4 overall and 2-2 in the Ocean League. They are currently tied for third place and they take on Hawthorne at home on today (Thursday) at 3:15 p.m. and next Tuesday they battle a team that is ahead of them in the league standings, Santa Monica at home at 3:15 p.m. El Segundo and Santa Monica are tied for first place in the Ocean League.
The boys' volleyball team is 9-9 overall and 4-3 in league play. They are currently in third place and they play Santa Monica at home today (Thursday) at 4:30 p.m. They will also host their own tournament on Saturday inside the Del Goodyear gym beginning at 8:30 a.m.  On Tuesday they travel to Beverly Hills for a key match at 3:15 p.m.
The girls' softball team is 11-6 and 2-0 in league play. They host El Segundo today (Thursday) at 3:15 p.m. and they travel to Lawndale on Tuesday for a 3:15 p.m. game.
The boys' lacrosse team is 8-6 and 2-2 in league play and they travel to El Segundo on Friday for a 3 p.m. game.
The unbeaten track and field teams ran and jumped against Beverly Hills last Wednesday and now they are getting ready to defend their league titles in the Ocean league prelims and finals. The Prelims are Saturday at Culver City at 10 a.m. and the finals are Wednesday beginning at 5 p.m. at Culver City.
On the track, the Centaurs have always been strong in the sprints but this year they also have girls and boys that are making a name for themselves in the distance races. One of the girl runners is Eden Winslow.  This year Winslow is dominating her competition in three events.
"I am so happy for her," said one of her coaches, Rayfield M. Beaton. "Over the past few years she has really improved and we are looking forward to seeing her compete in the league championships and in CIF."
Against Santa Monica last week Winslow won the 800,1600 and 3200 meter runs. "Santa Monica is are the biggest rival in the distance races so for me to do well gives us confidence as a team going into the Ocean league meet," said Winslow last week.
Winslow is s senior so this is her farewell season. "It makes me sad because I have enjoyed running for Culver City but I will continue to run at Dordt College in Iowa and after college, I hope to keep running," said Winslow as she turned a ran off into the sunset.