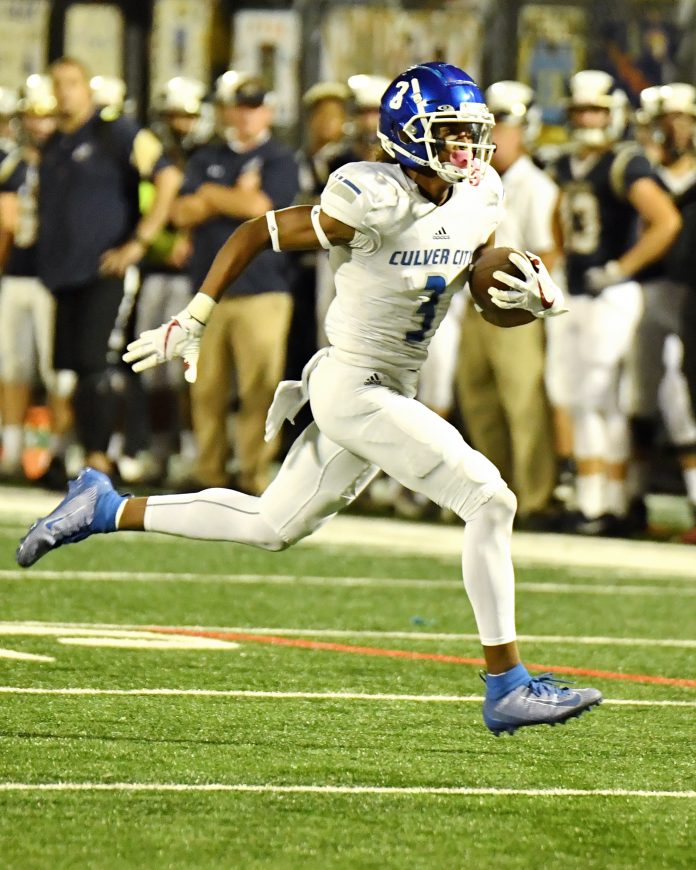 Perfection is a hard act to follow, but the Culver City football team is looking to stay perfect as they embark on a mission that can only be described as a spectacular journey. The Centaurs are the No. 1 team in the CIF Division 5 and they are 10-0 going into the CIF playoffs on Friday at home against Bishop Diego from Santa Barbara at 7 p.m.
The Centaurs are led by a prolific offense and an improving defense. Not only do they have outstanding players, but head coach Jahmal Wright has also assembled one of the best coaching staffs in Southern California. Stop what you are doing on Friday night and come and see the Centaurs play. You won't be disappointed.
One of the main reasons the Centaurs are having a great season is their passing attack, which is one of the best in the state.
During the last 30 years, Culver City has had some very good individual receivers, but the 2019 group may be the best collective group the Centaurs have had. Keeping all seven wideouts happy is not easy. "It's actually hard to keep them all happy because they are so hungry," said receivers coach Michael Hooper. Hooper prefers to call his group wideouts, not receivers. "Anybody can play receiver but it takes a special player to play wideout at Culver City."
The wideouts are led by Chris Miller, followed by Makai Cope, Tanner Duve, Emari Pait, Dylan Clark, and Legend Waring. "If you can find a better group in Southern California, please let me know," said Culver City head coach Jahmal Wright.
"We just try to complement each other," said Miller last week. "We have six or seven guys that can all do the same thing. It's a blessing. It feels good to lead a group of guys who are just as talented as me."
Culver City is having a spectacular season, and the wideouts need someone to throw them the ball. It certainly helps that the Centaurs have had one of the best quarterbacks in the state in Zevi Eckhaus. Eckhaus has thrown for 3,516 yards and 49 touchdowns. "Culver City has always had good quarterbacks, but this year we have an outstanding signal-caller in Zevi," said long assistant coach and former Centaur star quarterback Greg Goodyear.
Going into the playoffs the Centaurs will need to rely on all of their weapons on offense and defense. "That's been our calling card all year being able to take advantage of the weapons that we have," said Wright last week. "Everyone has stepped up and especially the offensive line. They are doing a great job so I'm excited. "
Being No 1 and 10-0 Wright knows there is a target on their backs, but he thinks his team is up to the challenge. "We expected to here in this position. That was one of the goals we set. Our goal now is to take it one game at a time. If we do that we have a real good shot."
Wright is relying on senior leadership to help the team stay focused. "This group has tasted success but I think we are still hungry. The seniors have set goals and I am just trying to support them."