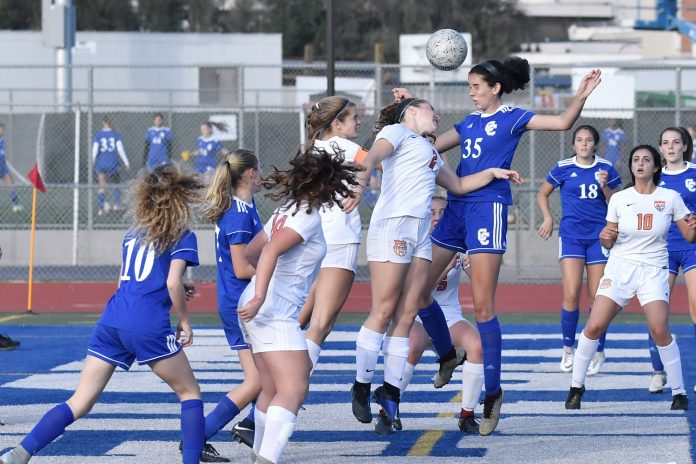 Culver City high school continues its athletic excellent this winter when four teams made the CIF Southern Section playoffs this week. Its one thing to make the playoffs but to have four teams make it in four major sports is quite an accomplishment.
Girls' basketball, boys' basketball, girls' soccer and boys' soccer all made it to the big dance. It's March Madness in February for high school sports. Now all four teams have an opportunity to compete at the highest level and try to win a CIF championship.
The girls' basketball team finished the regular season with an 18-7 overall record and a 9-1 first place finish in the Ocean League. They travel to Bonita high school in the city of La Verve for their first-round CIF Division 2A playoff game tonight at 7 p.m. La Verve plays in the Palomares league and they are 19-6 and 9-1.
Boys basketball finished at 17-11 and 6-4 in league play which landed them in third place in the Ocean League. They battle West Torrance in their first-round CIF Division 2A game at 7 p.m. on Friday at West Torrance. West Torrance is 19-9 and 7-3 which was good enough for second place in the Pioneer league.
Girls soccer finished with a record of 12-6-4 overall and 7-2-1 in the Ocean League. They finished tied for first place with Beverly Hills in league play. They played their first-round CIF Division 3 game last Wednesday at home against Knight high school from Palmdale.  Knight came into the game with a record of 16-4-2 and 11-2-1. If they beat Knight their next game is Friday against the winner of the Alta Loma and Paloma Valley game.
Boys' soccer finished the regular season at 8-6-4 and 5-3-2 in the Ocean League. Their league record placed them in second place.  They play a CIF Division 4 first round game today or tonight (Thursday) against Fillmore. Fillmore is 14-8-1 and 6-4 in the Citrus Coast league.  Call the school today to find out what time the game will be played.
Please call Culver City high school (310 842-4200) to find out the dates, times and location of the second round games if the Centaurs advance.