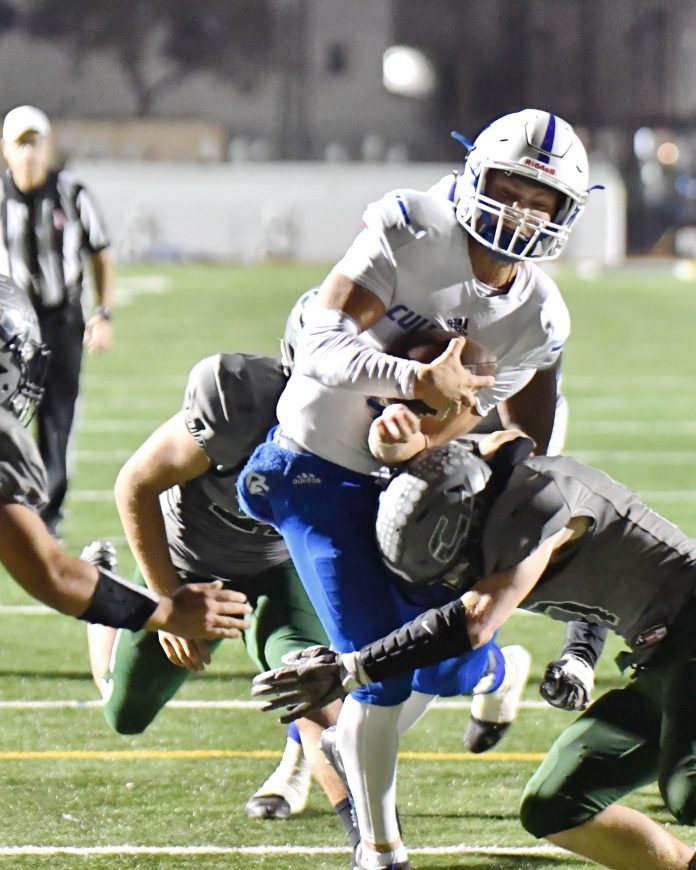 Culver City's first opponent in their new league will be a familiar one. The Centaurs and the Mira Costa Mustangs have had some classic battles over the years but the one on Friday night figures to ranked at the top of the list. 
Not only is this the first game in a pandemic season but Mira Costa may have a quarterback that can go toe to toe with Culver City great signal caller, Zevi Eckhaus.  Kick off is set for 7 p.m. at Mira Costa. Only family members will be allowed to attend the game.
Culver City fans are well aware of how good Eckhaus is but now they will see how good Mira Costa's new junior quarterback is. Casey Pavlick started his first varsity game last week and threw for 404 yards and five touchdowns in a losing effort, 38-35 against St. Francis of La Canada at Mira Costa.
Pavlick's favorite receiver is Thomas Southey. The 6'0, 195-pound senior caught a school record 12 passes last week for 204 yards and four touchdowns. Southey is also the teams' kicker and punter.
The Centaurs will counter will their own high-powered offense led by Eckhaus, receivers Emari Pait and Legend Waring, running backs Ayinde Bankole and Deshunn Powell and a big athletic offensive line led by Arian Simon, Mason Merriwether, Lucas Brand, Dylan Nichols and Bryce Williams.
The winner of the game will be the team that plays the best defense. The game figures to be a shoot out but key defensive stops and turnovers will determine the winner.
The first game of the 2021 season for the Centaurs will be a huge test for their defense. The Culver City defense is led by linemen Simon, Merriwether, linebackers Aaron Salas, Cole Ward, Antonio Moten, Nicholas Funes and Quinten Brunson and defensive backs Pait and Ayinde.
Culver City is also led by an outstanding veteran coaching staff. Their remaining four games will be against Redondo Union on March 26 at home (7 p.m.), at Peninsula on April 2, at 3:30 p.m., Palos Verdes at home at 7:30 p.m. on April 9, and at home against Santa Monica on April 16, at 7:30 p.m.