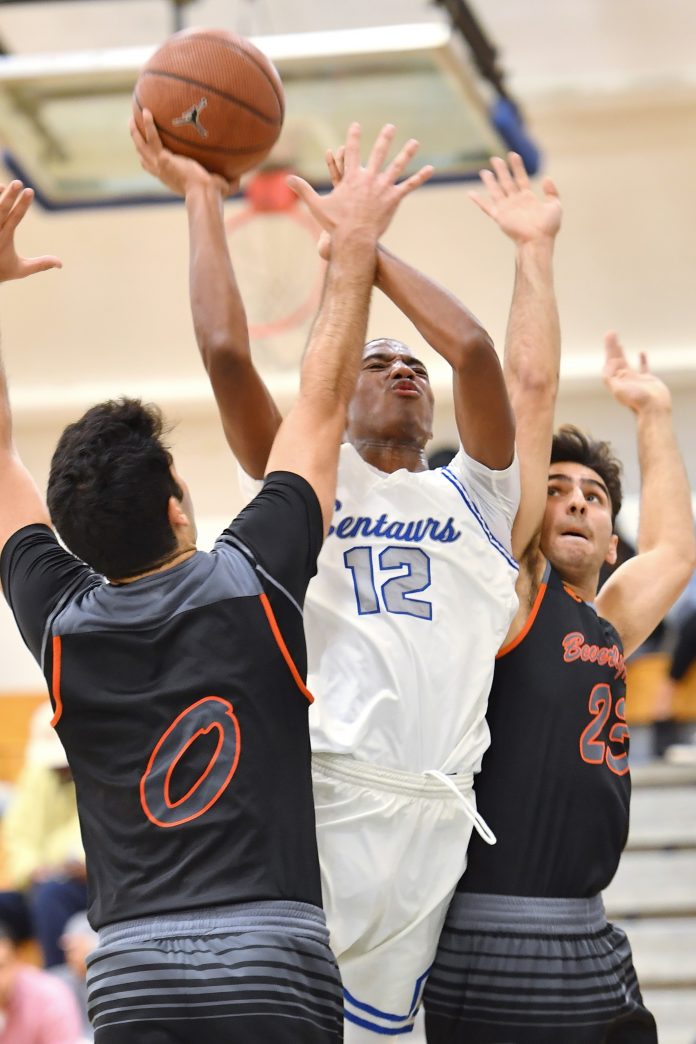 The boys and girls basketball teams have three more Ocean League games to try to win a league title or make the playoffs. If the girls expect to win the title several things have to happen. In the boys' situation, they simply have to win two out of their last three games to make the playoffs.
The girls play El Segundo on Friday at home at 6 p.m.  El Segundo is the first place team in the Ocean League with a current record of 6-0.  Culver City is the second place team at 5-1. If they beat the Eagles on Friday they will be in a first place tie. In order for the Centaurs to win an outright league championship they will have to win their final league games and the Eagles will need to lose one game.
The boys' team is currently 3-3 in Ocean league play and their game against El Segundo on Friday at 7:30 p.m. is crucial. Both teams are tied for third place in the Ocean league with 3-3 records. They appear to have no chance of catching first place Beverly Hills (6-0) or second place Santa Monica (5-1).
The CIF playoff selection committee may only choose three teams from Ocean League so the Eagles and Centaurs game on Friday is very important.  "We are still in contention for the league title but a lot of things have to happen," said Culver City head coach Roy Walker Jr. last Friday night after their loss to Santa Monica.  "We can still get a good seed in the playoffs."
As long as his team plays hard like they did against a better and taller Santa Monica team last Friday Walker can live with results, even if they are on the negative side. "I am very proud of my team even if the tip of the ball does not go your way," said Walker. "I am learning that their energy is my energy. If I am positive and having fun they are going to be positive and having fun. If they are learning and having fun at the same time that's all that matters."
For the girls' team beating El Segundo is a priority. Culver City is 14-7 overall and El Segundo is 16-7. Hopefully playing at home this Friday will give the Centaurs an edge.  One of Culver City's top players, junior Junie Dickson is looking forward to the challenge.
"To beat El Segundo we have to definitely play as a team and bring a lot of energy and discipline," said Dickson after their win over Santa Monica last Friday.  "The two wins in our last league games really brought this team closer together."
The girls long time head coach Julian Anderson thinks his team is peaking at the right time.  "We are moving the ball and everyone is starting to have a little fun so that's a good thing," said Anderson after a game last week. "A few weeks ago when we played Hawthorne we started moving the ball."
Anderson continued to say, "To get better we need to clean up a few things. Our defense has to get better and especially our man to man defense. I think we are all getting on the same page right now and our seniors are starting to show more leadership but to beat El Segundo we have to play smarter and do a better job staying on their shooters."
The boys soccer team  will play El Segundo Friday at home at 6 p.m. They at 7-4-3 overall and 4-1-1 in league play. El Segundo is 6-0 in league play and 14-1-1 overall. The girls soccer team is 9-6-3 overall and 4-2 in league play. They travel to El Segundo for a 3 p.m. game on Friday.