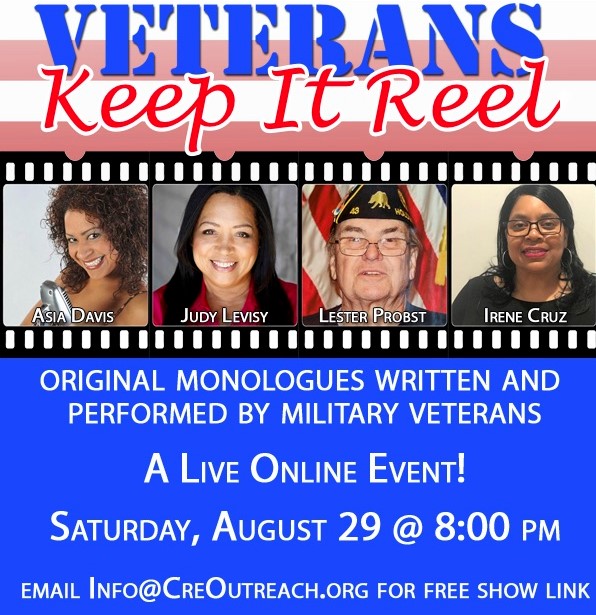 Created by CRE Outreach based at the Blue Door in Culver City, Veterans Empowerment Theatre (VET) features a variety of performing arts workshops and opportunities that give our nation's brave service members a safe environment to voice their own heroic stories, personal tragedies, triumphs, and experiences through theatre. 
VET has been staying extraordinarily active over the last couple months, rehearsing weekly and creating the script for their next show VETERANS KEEPING IT REEL which will showcase original monologues written and performed by military veterans about their lives before, during and after serving our country. Their first-hand views are shared in their rawest form, unfiltered by the press, political or military censorship, which give audiences greater insight into the difficulty facing veterans returning from deployment. 
The one-night event takes place on Saturday, Aug. 29 at 8 p.m., and the performance is free for the public to attend. Reservations must be made in advance by email to info@creoutreach.org to receive the show link. Please join in as the original work from these courageous veterans, and now performers, is shared live online. For more information about VET at https://creoutreach.org/our-programs/veterans-empowerment-theatre/ 
CRE Outreach is a non-profit performing arts organization, based at The Blue Door, 9617 Venice Blvd., in Culver City, CA 90232, is dedicated to empowering underserved youth, people with disabilities, and military veterans in greater Los Angeles. CRE stands for Create, Reflect, Empower—words that encompass the process, focus, and targeted outcomes of their programs. Since 2007, CRE Outreach has utilized theatre, the performing arts, and educational programs as a means to enhance self-esteem, encourage self-expression, and empower individuals to overcome the challenges in their lives. Read more about CRE Outreach at https://creoutreach.org.