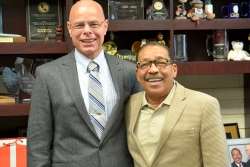 Los Angeles City Council President Herb Wesson, a longtime resident of Culver City who represented the area as the Speaker of the California State Assembly, has endorsed business owner, Civil Service Commissioner and lifelong Culver City resident Albert Vera for Culver City Council.
"I'm urging everyone in Culver City to vote for Albert Vera on April 10," Wesson said. "Al Vera is the type of man who knows how to get things done. He's the type of man who puts 'we' first … He understands that we all need to work side by side. He will help bring the city together and accomplish the things that this great city of Culver City needs to get done," Wesson said.
"I am anxious to bring my business experience to City Hall, and I know that from solving the homelessness issue to addressing traffic concerns, we need to work closely with the City of Los Angeles," Vera said. "That is why Herb Wesson's endorsement means so much to me. I know that, working together, our two cities can make great strides in coming up with intelligent ways to deal with traffic, transportation and mobility.
"We need to move our city forward by working together to address our challenges and take advantage of the opportunities we have before us. We need to balance economic development with the special qualities that make Culver City unique. I know that I can do that."
Vera is a member of the Culver City Exchange Club and has served on both the Culver City Landlord/Tenant Board and the Culver City Civil Service Commission, where he currently serves as part of the five-member commission charged with advising the City Council on all matters concerning Human Resources administration.
He also serves on the Culver City Chamber of Commerce Board of Directors, the Culver City Palms Family YMCA Board of Managers and the board of Upward Bound House, a non-profit agency that works to find permanent, supportive housing for homeless children and their families.
For more information about Vera and his campaign, visit www.veraforcouncil.com.
* The NEWS will run photos and edited press releases from all Council candidates prior to the April 10 General Municipal Election. Submissions can be sent to editor@culvercitynews.org, and printed material will be at the discretion of the editor-in-chief.