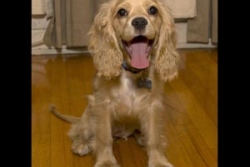 Puppy Bowl XI aired Sunday Feb. 1 and Society for the Prevention of Cruelty to Animals Los Angeles (spcaLA) cheered for Drew Carey, a buff colored Cocker Spaniel puppy from spcaLA.
Drew Carey, née Rosey, was named after the famous Los Angeles Rams player, Rosey Grier. Her vivacious personality, love of sport, and 'California Girl' good looks were her strongest assets on the Puppy Bowl field. She has since been adopted and lives in a loving home in Redondo Beach.
Like many shelter pets, Rosey came to spcaLA as a stray only 6 weeks old. Too young for adoption, Rosey spent a few weeks in foster care and was eventually adopted by her foster family.
spcaLA has participated in four consecutive Puppy Bowls. Fumble, spcaLA player from Puppy Bowl VIII was voted MVP, Most Valuable Puppy.
Drew Carey, flew to New York City courtesy of Virgin America to compete in the Puppy Bowl.
For more information or to schedule an interview, persons interested can contact Ana Bustilloz at 323-730-5300 ext: 252 or via email at abustilloz@spcaLA.com.
spcaLA is an independent, nonprofit animal welfare organization serving Southern California since 1877. There is no national SPCA, parent organization, or umbrella group that provides financial support to spcaLA. Donations run programs and services including Cruelty Investigation, Disaster Animal Response Team, Humane Education, and a variety of shelter services.