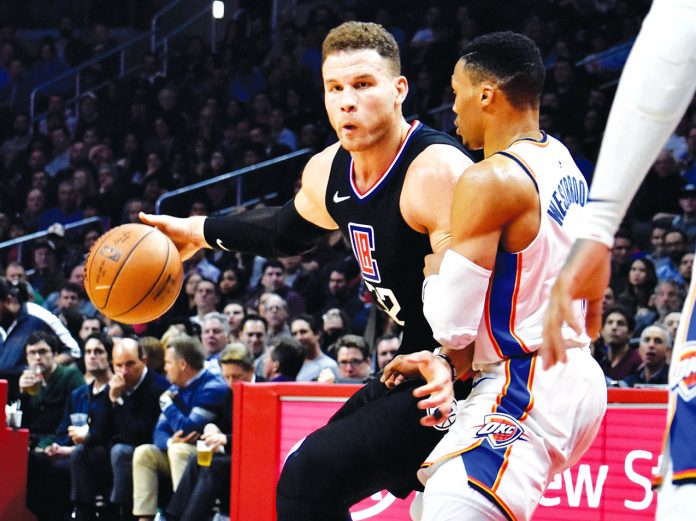 The Los Angeles Clippers are still in the playoff picture despite a ton of injuries this season. At press time they were 22-21 which put them in the playoff ring with five other Western Conference teams. Their win over the Houston Rockets last Monday put them in the playoff conversation with New Orleans, Oklahoma City, Portland and Denver.
The top teams in the Western Conference are the Golden State Warriors, Houston, San Antonio and Minnesota. Once again the West is loaded with great teams and great players. The fact that the Clippers are battling for a playoff spot is surprising when you consider the injuries they had to deal with since the beginning of the season.
All five players of their projective starting lineup have been injured and one of them, guard  Patrick Beverley is probably out for the season with a knee injury.  Danilo Gallinari has hardly played due to injuries. The forward was a reliable scorer for the Denver Nuggets last year.
Point guard, Milos Teddosic, a 30-year-old rookie from Serbia has been in and out of the lineup all season. Blake Griffin, their star forward just returned to the court within the last week because of injuries and now center DeAndre Jordan is out with an ankle sprain. Also part-time starting guard Austin Rivers is currently out with an ankle sprain.
With so many injuries this season the Clippers are still able to stay in the playoff race because of good coaching and a player by the name of Lou Williams.  Since the injury bug has hit the Clippers Williams has been one of the best players in the National Basketball Association (NBA). Williams has scored 20 or more points in 13 straight games and he is averaging a little over 24 points per game.
Williams, along with Sam Dekker, Montrezl Harrell and seven year veteran forward Wesley Johnson have stepped up and played well for the Clippers. Johnson is having his best season as a pro. His three point shot is dropping, his defense is outstanding and he is one of the best leapers in the NBA. "Wesley has been playing like this in practice all season so we are not surprised that he is now playing well in the games," said Clippers head coach Doc Rivers.
A lot of the credit for the Clippers productive season can be given to coach Rivers. He is a players' coach who knows how to get the best out of his players and he does it in a respectable way.
The Clippers next two home games will be against Minnesota on Monday, Jan. 22, at 7:30 p.m., and Wednesday, against Boston at 7:30 p.m.