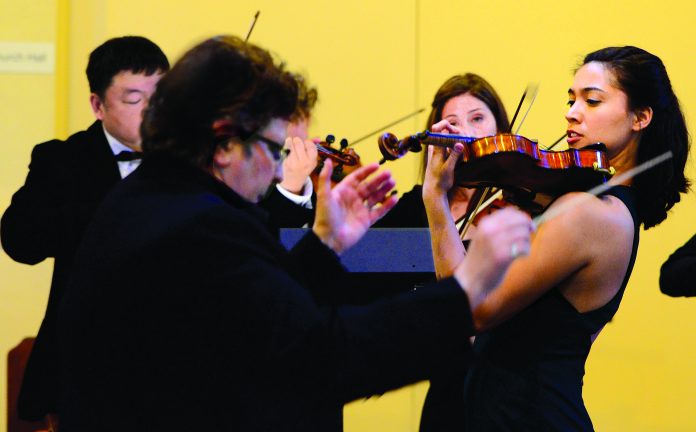 CC Chamber Orchestra continues to perform dynamic music, even in harsh economic times
The musicians were top-notch. The music was mesmerizing. The venue was the Culver City Presbyterian Church and listeners from in-town and around, came in numbers to fill the seats.
"An Afternoon of Chamber Music" treated local music lovers to the rich sounds of the Culver City Chamber Orchestra on a cool Saturday afternoon in March. Under the direction of orchestra co-founder, Arlette Cárdenes, violinists, viola players and cellists showcased their dazzling skills — as a group and as soloists.
"Our soloists for this concert are our core members stepping up to the limelight to highlight their talent," Cárdenes told the CC Chamber Orchestra News. "We have Yi-Huan Zhao, Sharon Jackson and Usha Kapoor (as) violinists; Karolina Naziemiec and Elizabeth Wilson on violas; Kevan Torfeh and Evgeny Tonkha, as cellists.
Kapoor is a graduate of Colburn School in Los Angeles, a conservatory of the performing arts. She is currently a Fulbright recipient in Germany, Cárdenes said.
Featured works included artists Albinoni, Handel, Bach, Telemann, Vivaldi and Sibelius.
Next up for the CCCO is a personal favorite of Cárdenes: "Cello Mania Returns," at 3 p.m. on May 4, at the Holy Nativity Episcopal Church, 6700 W. 83rd St., Westchester.
"We needed to scale back our programs because of the current economic slowdown," Cárdenas said in a prior interview. "But there are other possibilities we are considering and working diligently to achieve them."
Founded in 1997 by siblings Andrés (a world-renowned violinist) and Arlette Cárdenes (who has a bachelors and masters in cello performance), the Culver City Chamber Orchestra was a means for the Cárdenes family to pay tribute to the city they call home.
"When I returned from graduate school, I found that our arts program in the schools had been suspended," she recalled. "It gave me the resolution to start this orchestra, as a way to give back to Culver City for the programs my siblings and I had when we are in the Culver City schools."
Funding for the chamber orchestra, which is a 501.3 non-profit organization, is dicey.
"We are funded primarily through grants, small businesses, and individuals," Cárdenes said. "As our economy is stretched out so much that today, funding is considerably more challenging."
The March 9 performance was made possible in part by the City of Culver City, in celebration of the 25th anniversary of the Performing Arts Grant Program, with support from Sony Pictures Entertainment, Cárdenes said. Other support came (in part) from the Los Angeles County Board of Supervisors, through the Los Angeles County Arts Commission and The Hennings-Fischer Foundation.
While the financial future of the orchestra remains uncertain, the vision of the Cárdenes family is as focused as ever.
"I have always envisioned our orchestra to be the best possible orchestra on the Westside," Arlette Cárdenes said. "I still have plans to pursue other avenues of funding. I especially want to focus on children's outreach, because as I was given such a great education and opportunities to perform, it is notably harder due to our current cutbacks in the schools.
"In addition, we are hoping to work with other groups, such as choirs, dancers and especially with exceptionally talented young musicians," she added.
To learn more about CCCO, call 310-397-2490; email at cccoac@verizon.net or go to https://www.ccchamberorchestra.org/ The mailing address is P.O. Box 2504, Culver C