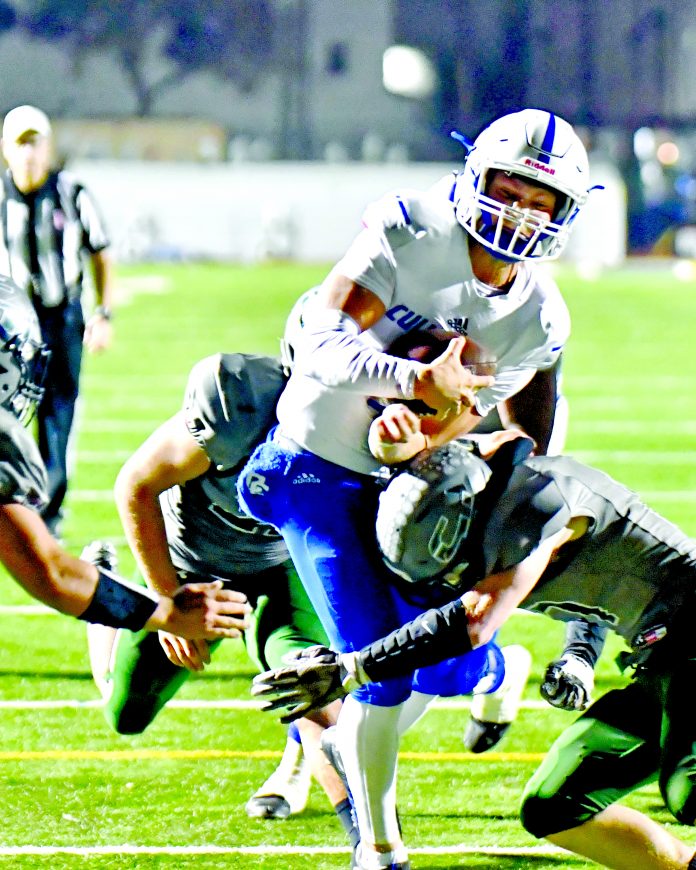 In Greek mythology, a Centaur is a mythical being that is half man and half horse. Last Friday night against Chino Hills, the Culver City Centaurs football team unleashed a late first and second half onslaught that had fans on both sides of the stadium wondering what they had just witnessed. What they saw was a Culver City team that played like their Mascot, a Centaur.
Their 62-35 victory over Chino Hills can only be described as poetry in motion. The offense, defense, and special teams were outstanding in the second half. "It feels wonderful," said 6'6" 310-pound offensive tackle Dylan Nichols. "It is great to make it this far, and I am excited to make it to the semi-finals. We have always said that we are a second-half team. Tonight, we knew this was our whole season on the line. We knew we had to step up because if we didn't it would be our last night playing football." Nichols will be playing football next year at Arizona State.
The victory last Friday put the Centaurs into their third straight CIF semi-final game. This Friday at 7 p.m. at Culver City High School inside the Jerry Chabola Stadium the Centaurs will face St. Paul in the CIF Division 5 semi-final game. The Centaurs are a perfect 12-0 and St. Paul is 11-1 so hopefully Culver City can put together another great game and make it to the finals on November 29.
St. Paul is just like Culver City in that they have an outstanding football program. "It's the semi-finals, so we know every team is good," said Culver City head coach Jahmal Wright after the win against Chino Hills. "We have to have a solid game plan and execute and cut down on the penalties and turnovers and that will give us the best chance to win the game against St. Paul. "We have a good group of players that buy into what we want to do. It's pretty cool to be back in the semi-finals."
Culver City assistant running backs coach and a former All-American running back at Nebraska knows the 2019 Centaurs are a special group. "I think a lot of the success is due to the maturity of our quarterback Zevi (Eckhaus). He is engineering some good drives. He is keeping his composure under pressure. Another reason we are successful is the game plan that is put together by Coach Wright and the rest of the staff."
Eckhaus has thrown for 4342 yards and 58 touchdowns, which are some of the best numbers in the nation. He had five touchdowns and 564 yards passing against Chino Hills. "This was definitely better offensively than we played last week," said Eckhaus last Friday. "Now we can focus on St. Paul and take it day by day. We have learned to fight through adversity."
Eckhaus knows the offense is only as good as the offensive line. "The offensive line is outstanding. They play their hearts out. Every yard and every touchdown the offensive line gets a lot of credit for that."
Longtime assistant and former Culver City head coach, Cornell Myles has been on the Culver City sidelines for 21 years. "This season is built just for us. We have a lot of talent but at the same time we know during the games that we are going to have difficult times but we always bounce back. We are putting everything together right now. We have to win one more game and we will go back to the championship."