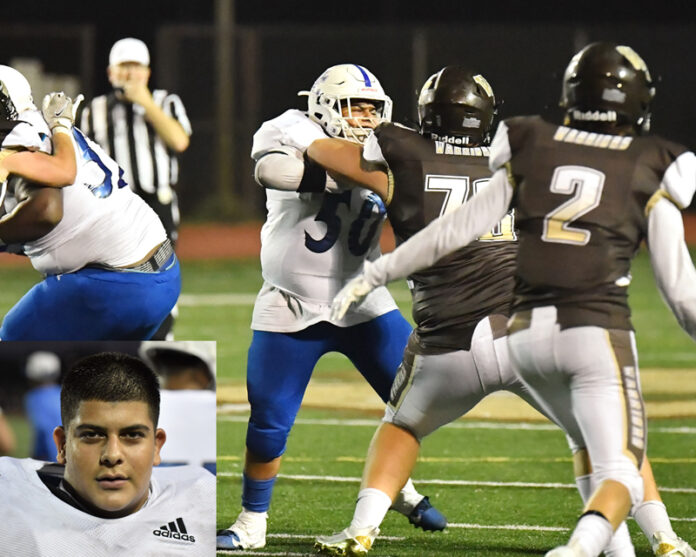 The Culver City high school varsity football team kicked off the 2021 fall season with a 31-0 win on the road against West Torrance last Friday night.  The offense, defense and special teams made special plays in the first game of the season, but what really stood out was the play of the offensive and defensive line. According to many Culver City football historians, this is the biggest line in Centaur history.
The offensive tackles, 6'5", 330-pound Mason Merriwether, 6'6", 315-pound Bryce Williams, guards 6'3", 220-pound Carlie Butler, 6'1", 290-pound Keenan Carter and 5'10", 290-pound center Robert (Bobby) Singerman dominated the West Torrance's defensive line. 
Most of the offensive lineman also play on the defensive line along with 5'10", 330-pound nose guard Courtlen Scott.  "They all did a great job, it was exciting," said Culver City head coach Jahmal Wright after the game.
Merriwether, a juanior and three-year varsity starter on the offensive and defensive line was also excited after the victory last Friday night. "It feels good. I heard that Culver City had smaller lines in the past so for us to come out here tonight and do what we did makes happy. I get better and better every year." Merriwether also has a sister that earned a college scholarship playing softball at Culver City a few years ago.
Hopefully, the excitement will carry over to this week when the Centaurs travel to battle Loyola of Los Angeles Friday at 7 p.m. Loyola is similar to Culver City. They have big lineman led by 6'5, 295-pound Sam Yoon and the 1-1 Cubs feature a balanced offensive attack. 
Against West Torrance, the Centaurs introduced a new cast of stars on offense and defense. "This team is a little different from the last few years because we have a lot of new players," said Anthony Thomas, a 1997 Centaur graduate and a 10-year veteran football coach at Culver City. "It was great to see everyone put it together tonight."
Thomas continued to say, "It was the first game, and everyone was flying around. We played well but we can play better. I am pleased with the outcome. We have some good players, but they don't have the experience. It's going to take them a little longer to get things really rolling." 
One of the new players with no varsity experience is true freshman quarterback Alsonzo Esparza. In his first game under center, he completed 26 out of 38 passes for 336 yards and two touchdowns. His main targets were Elijah Adams, Darius Poles and Andrew Abdelmeseh. Poles caught nine passes for 126 yards and one touchdown, Adams caught five passes for 76 yards and Abdelmeseh had four catches for 75 yards.
"The team did a really good job, said Esparza. "We are nothing without our line, our receivers and running backs. They all had an amazing performance. The tackles and center on the offensive line are really holding up on the pass protection and the guards are really doing well on their pull blocks in terms of the run game. The line is doing a great job overall."
On defense, the 31-0 win was special because it was the first game as the varsity defensive coordinator for 10-year veteran coach, Derrick Huezo who is also the son of Centaurs head coach, Jahmal Wright.  "I was excited for the guys," said Huezo. "They made me proud tonight. I always preach to them about the bend but don't break mentality. We hang out hats on that. Bad things are going to happen in games, but we like to keep the other team out of the end zone."
Wright was just happy and relieved to get the win. "It's always good to get a victory to start off the season. You put in so much time over the summer and fall camp, so to see it pay off with a victory is always a good thing."