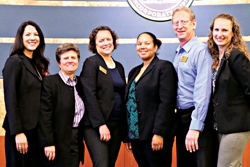 At its March 14 meeting, the Culver City Unified School District Board of Education reviewed 16 applications for provisional appointment and selected Summer McBride to fill the remainder of the term vacated by Sue Robins. The term extends through November 2018.
Robins, who will resign her position, effective Thursday, March 30, is moving to Portland, Maine with her husband, Terry, as part of the next chapter of their lives.
McBride is a mother of two El Rincon Elementary students, two Culver City Middle School students, and one future Office of Child Development preschooler. She explained to the Board on Tuesday night that she is passionate about the District and has spent the last eight years working with many in the Culver City community to support the efforts and goals of all students, teachers, staff and families.
"Please join us in welcoming Ms. McBride to the Culver City Unified School District's School Board where we hope her vision for excellence will impact the lives of every student, at every school, every single day in Culver City," said Superintendent Josh Arnold.
McBride communicated her excitement to work collaboratively with the current Board and Superintendent to establish the policies and procedures that will guide District actions while equitably representing the interests of CCUSD's diverse community, recently ranked the fourth most diverse in the United States.
Specifically, McBride has been the first vice president of the Culver City Council of PTAs, the corresponding secretary of the El Rincon PTA, a member of the El Rincon School Site Council, a member of the CCUSD Inclusion, Respect, and Diversity Task Force, a president of the El Rincon PTA and an executive vice president of the El Rincon PTA.
At the Board meeting, some very kind words were expressed about Robins and her role on the Board over the years, including her influence on college readiness, academic rigor, a new science building at the Culver City Middle and High School campus and equity and access for girls in academics, athletics, activities and the arts.
McBride is scheduled to be sworn in at the Board's April 25, 2017 meeting, when she will assume full responsibilities as a member of the Board of Education.