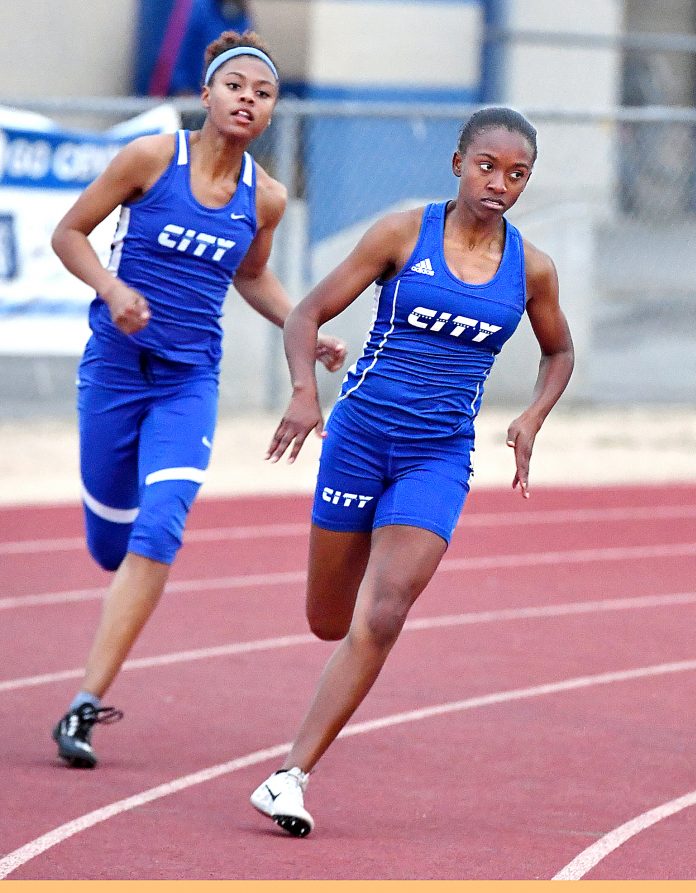 You had to see it to believe it. On May 2, the Culver City High varsity girls' track and field team scored a record 231 points in the Ocean League track and field finals to win their fourth straight championship. Starting with a win in the 4×100 meter relay at the beginning of the meet to the last event, the 4×400 meter relay the Centaurs were everywhere.
The varsity boys also won the title. They had to win the last event, the 4×400 meter relay to edge Lawndale 140 to 137. The girls' frosh/soph team placed second behind Santa Monica and the boys' frosh/soph team came in third place.
"Although we were hoping to win all four divisions we are extremely proud of our athletes," said head boys coach Jahmal Wright after the meet.  "Our kids work hard and that's why Culver City track and field teams compete at a high level."
The amazing thing about the track and field teams is they are so young. The winning girls' varsity 4×100 relay team consists of ninth graders Ari Belcher, Ayahna Bahati, Alero Soaris and junior Kayla Barnes.
Culver City girls and boys dominated the varsity 400-meter. Anaiya Mitchell, Taylor Reliford, Belcher and Emily Sugiyama placed one, two three, four for the girls and Dexter Hollier, Richard Reliford and Dominick Tatum placed one, two, three for the boys.
In the girls' varsity sprints Barnes won the 100 and 200 meters and in the boys' sprints 100 Jayden Evans placed second and came back later that night to win the 200. In the boys 800 Arman Rostamian placed second and in the boys' 300-meter hurdles Desi Dickerson came in first.
Both of the girls and boys 4×400 varsity relay teams placed first with the boys' team of Hollier, Tatum, Tyler Luckett and Reliford running a fast time of 3:25.23.
In the girls' field events, Angels Morris won the high jump and long jump. Aja Paxton won the girls' triple jump and Hazel Anagu won the shot put.
Now the varsity girls and boys who qualified for the CIF prelims this Saturday at Moorpark High School will have to be at their best. "We hope to run our best times and move forward into the next CIF meet," said girls head coach Rayfield M. Beaton after practice this week. "We want our kids to go as far as they can. These kids advanced to the CIF because they are great athletes. We are hoping our kids come up with their best performances of the year."