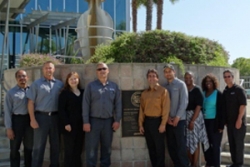 The City of Culver City has been named as an Elite Fleet after achieving the #1 Best Municipal Fleet in North America recognition by the "100 Best Fleets National Fleet Certification/Recognition" program in 2013.  Government Fleet publication representatives presented Culver City with this prestigious award at the Government Fleet Expo & Conference hosted in San Diego earlier this month.
This achievement is awarded to only one of a large number of public fleet organizations in recognition of outstanding contributions and leadership, particularly in the advancement of accountability, efficiencies, and advanced technologies.  Award-winning fleets must maintain high operational standards while demonstrating consistent sustainability practices.  Only previously No. 1 ranked fleets can participate in the Elite Fleet program which identifies only the best of the best.  Since the inception of this program, only five municipal fleets have been name an Elite Fleet.
The highly competitive program is open to all federal, state, and local government fleets in North America and is based on a comprehensive set of criteria specifically tailored to the challenges and requirements of government fleets.  The criteria, which were carefully established by industry leaders and past winning fleets include: accountability, technology implementation, high trust culture, acknowledgement, collaboration, creativity, celebration, doing it right the first time, quick/efficient turnaround, staff development, resource stewardship and competitive pricing.
"Culver City has been a progressive leader in its commitment to maintaining a highly efficient operation and because of its use of natural gas as its alternative fuel of choice recycling and refuse trucks, transit buses, Public Works vehicles, and automobiles," Culver City Mayor Meghan Sahli-Wells said. "These vehicles conserve over 850,000 gallons of gasoline and diesel fuel per year and save taxpayers more than $1.4 million annually."
Culver City strives to protect the environment through sustainable practices.  The City's fleet operation is certified with the State of California as a "Green Station" as designated by the Department of Toxic Substances Control.
"Culver City has an aggressive operational recycling program that adheres to a 100 point recycling program approved by the state," Mayor Sahli-Wells said. "Our program includes the proper management of all waste, including the recycling and proper handling of oils, fluids, and metals."
Along with this year's Elite Fleet recognition, the Equipment Maintenance & Fleet Services Division was awarded the No. 1 Best Overall Government Fleet in 2013 and the No. 1 Best Green Fleet Award in 2009 for North America.  In 2008, the Division was awarded the prestigious Natural Gas Vehicle America Leadership Award and is a three-time winner of the Environmental Leadership Award.  Culver City has been ranked consistently as one of the top 12 fleets in North America since 2006.
In addition to these distinctions, the City's Fleet Services Manager, Paul Condran, was also named the 2014 Public Sector Fleet Manager of the Year at the San Diego conference.  For more than 28 years, Condran has helped to convey the importance of the City's government fleet operations in the public sector and has led the industry in promoting and implementing alternative fuel technologies.