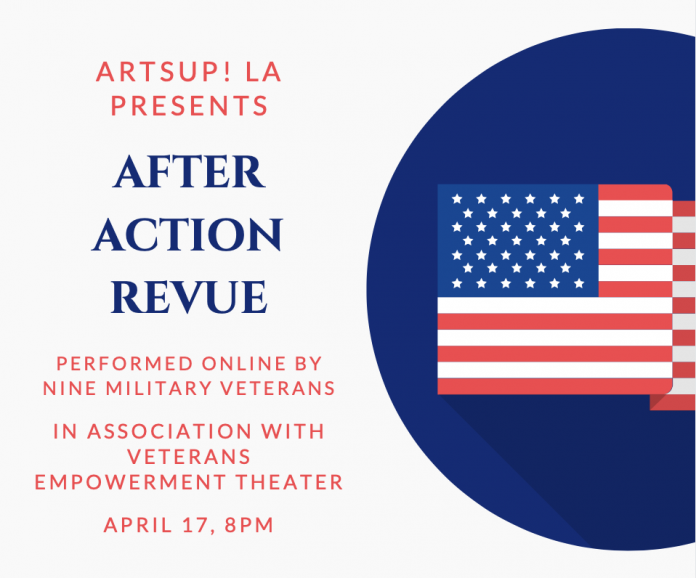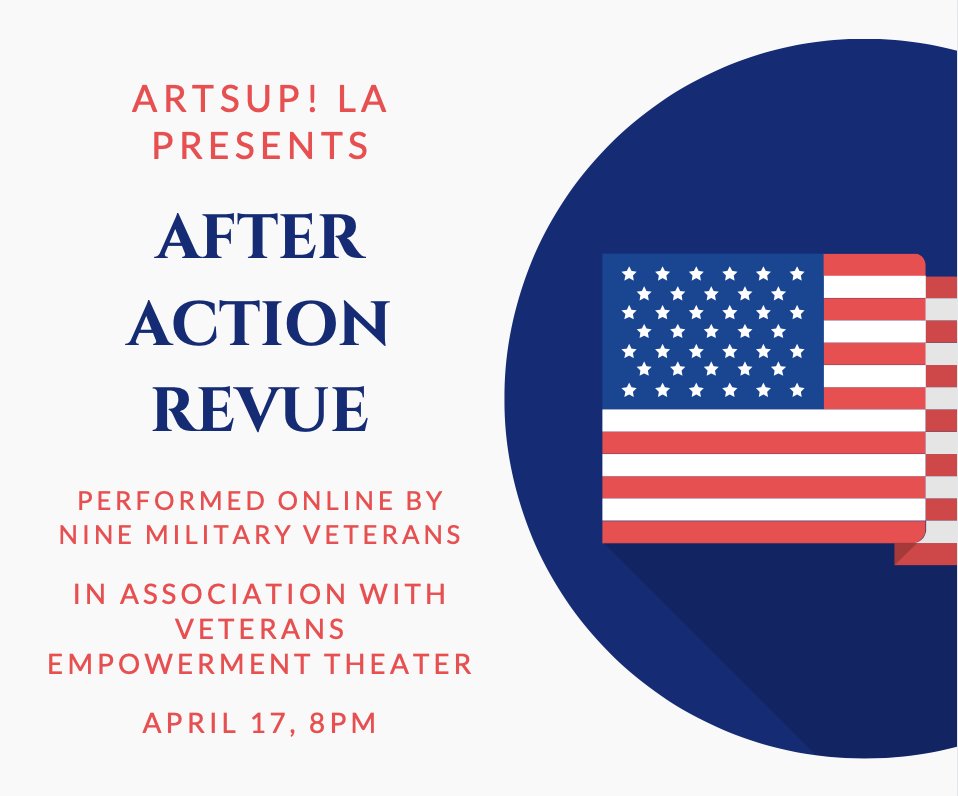 ArtsUP! LA, formerly known as CRE Outreach, owns and operates The Blue Door theater in downtown Culver City. Of course, the venue has been closed for over a year due to pandemic restrictions, but the performance groups operating under the ArtsUp! LA banner have continued to rehearse and present productions online.
Their latest show, AFTER ACTION REVUE, is a live online event featuring original monologues written and performed by nine military veterans from Veterans Empowerment Theatre (VET), a performance troupe that gives our nation's brave service members a safe environment to voice their own heroic stories, personal tragedies, triumphs, and experiences through theatre. This virtual collection of solo performances will showcase a wide variety of honest, surprising, and heartfelt monologues written and performed by the Veterans, including original poetry and spoken word, drawing from their experiences in the military and beyond. 
The show, led by Judy Welch (US Army), will give the audience a chance to peek behind the curtain and learn something about the life of a Veteran that they may not have expected. Featured in the cast are Veterans Empowerment Theatre (VET) members Jericho Amante (US Marines), Mark Cayco (US Army Reserve), Irene Cruz (US Marines), Asia Davis (US Air Force), Joshua Epstein (US Army). Gwyn Laree (US Marines), Elaine Little (US Army), Lester Probst (US Army), and Judy Welch (US Army). 
The 'After Action Revue' takes place on Saturday April 17 at 8pm (one night only). Single tickets are priced at $10, with $5 tickets available for Veterans, people with disabilities, seniors, and students. Tickets can be purchased at www.artsupla.org/explore 
ArtsUP! LA (formerly CRE Outreach) is a nonprofit theater and arts program serving people with disabilities, military veterans, and opportunity-challenged youth by removing barriers to participation and provides unlimited possibilities for artistic expression. Through their programs, ArtsUp! LA is building diverse artists and audiences who are changing how the arts are presented and experienced in our city. For more information about ArtsUp! LA and Veterans Empowerment Theatre (VET), please visit www.artsupla.org/programs/veterans-empowerment-theatre.