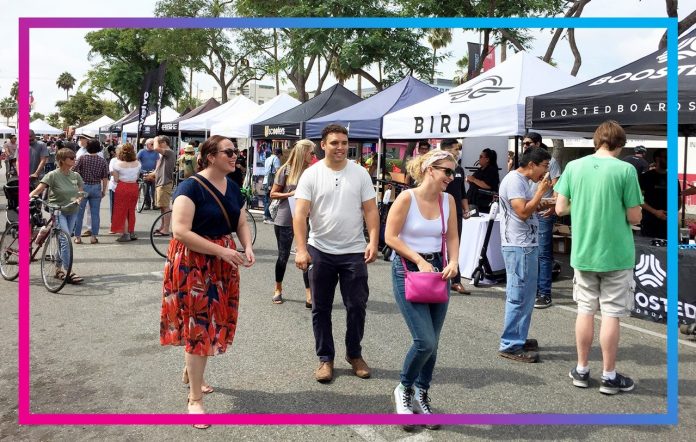 Culver City is gearing up for the 2019 Art Walk & Roll Festival which will be held Saturday, Oct. 12 from 11 a.m. to 6 p.m. Admission is free.
Presented by the Culver City Arts District Business Improvement District, in association with the Arts District Resident Association, the event will occur on Washington Boulevard between National Avenue and Fairfax Avenue.
The festival will feature a free self-guided tour of local art galleries along Washington Boulevard and La Cienega Boulevard featuring new and distinguished artists.
In addition to the featured art galleries, patrons will be able to enjoy beer and wine gardens, interactive experiences such as a mobility test track for electric scooters and e-bikes, and musical performances throughout the day.
A kids zone with games and rides will be on hand for those who wish to bring their children and for those who are more culinarily inclined, food trucks in addition to the numerous restaurants in the area will be available.
The event's musical performers will be located on two stages: the main stage will be on La Cienega Avenue and Washington Boulevard while the second stage will be on Sherbourne Drive and Washington Boulevard.
Performers include Double Batch Daddy, a musical trio that focuses on hipster music with a speakeasy vibe; Michael Monagan and The Sound a band that includes elements of pop, rock, reggae, folk, soul, jazz, and blues to create a musical experience; and Sarah and the Starlights, a band that plays Folk Rock, Americana, Rock, and Alt. Country.
Some of the participating art galleries include the Bruce Lurie Gallery, FP Contemporary, Helms Design Center, and Philip Martin Gallery.
New at this year's event will be ReCharge!, which will allow patrons to experience the world of electric mobility by trying out the latest electric scooters and electric bikes on a designated test track. Patrons can even bring their own e-bike or e-scooters to participate in an electronic exploration of the Artwalk or other happenings throughout the event.
This year's event sponsors include Ivy Station Culver City, Clarion Partners, Morley Builders, and LPC West.
During the event, Washington Boulevard will be closed to all through traffic between McManus Avenue and Caroline Avenue.
Those residents who live south of Washington Boulevard will have access to/from their homes via Helms Avenue on the west of the street closure, and Sentney Avenue and Reid Avenue east of the closure.  Residents who live north of Washington Boulevard will have access to/from their homes via Venice Boulevard.
Eastbound through traffic will be detoured onto National Boulevard; westbound through traffic will be detoured onto La Cienega Boulevard.
For more information, please visit www.culvercityartsdistrict.com.