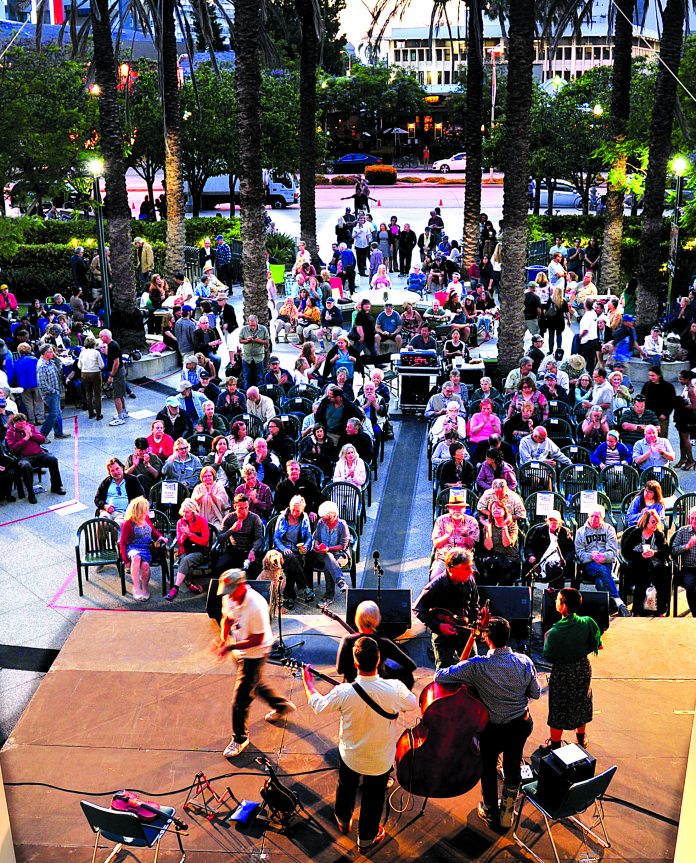 Boulevard Music's Mandell presents annual concerts
Summer conjures up wonderful thoughts, from vacations and family get-togethers to beach parties and picnics in the park. In this town, you can add the Culver City Boulevard Music Summer Festival to the list.
Tonight, the 2019 Summer Music Fest kicks off another six-week, free concert series in the intimate Dale Jones Courtyard of Culver City City Hall. The multi-dimensional sounds of Ryan Shupe and the RubberBand will be in the house to rock down the joint in cool-breeze fashion. The concert starts at 7 p.m.
And that's for starters.
Every week, a diverse style of musical entertainment will take listeners on a journey of sound and experiences that they won't soon forget. Curated by producer Gary Mandell of Culver City's Boulevard Music, the 2019 Summer Music Fest will feature "something for everybody."
On the music menu for the coming weeks, are "Argentinian Rock with superb vocals and guitar from Los Pinguos, plus Worldbeat/Funk/Rock/Mambo from the Bonedaddys (July 18); Afro/Cuban that can literally burn up the dance floor from Ricardo Lemvo and Makina Loca (July 25); Jazz/Blues/Motown with a tribute to Aretha Franklin from the George Kahn Jazz and Blues Revue plus the sounds of Surf Music/the Beach Boys with a tribute to Dick Dale from Big Wave (Aug. 1); An Evening of the Music of John Denver with singalongs from Jim Curry (Aug. 8); The ultimate vocal cover group—the most requested Pine Mountain Logs (Aug. 15)."
Culver City's Boulevard Music Summer Festival takes place on Thursday evenings at 7 pm through mid-August.
The Dale Jones City Hall Courtyard is located at 9770 Culver Blvd. in Downtown Culver City (corner Culver Boulevard and Duquesne Avenue). Parking is free for the first two hours (with festival validation) in designated structures in the Downtown area. The courtyard opens at 4:30 p.m. No glass containers or alcoholic beverages may be brought into the courtyard. For more information, call Boulevard Music 310-398-2583 or go to www.boulevardmusic.com.
Those who want to add to their listening pleasure can take a seat up front near the stage, as an entry-level sponsor for a mere $10 per show. There are 100 premium reserved seats available each week and tickets can be purchased at Boulevard Music in person or by phone (310-398-2583).
THE ARTISTS
 Tonight's headliner, Ryan Shupe, and the RubberBand can be read in the adjacent page.
 July 18: Los Pinguos plus The Bonedaddys
Los Pinguos
Los Pinguos came to the United States from Buenos Aires, Argentina, with a mixture of Latin rhythms, reggae, rumba Flamenca and rock. The sound of the band has claimed fans worldwide. The story began in 1999
when Adrián Buono, Enzo Buono, José Agote, Juan Manzur and Juan Manuel Leguizamón (later joined by bassist Santiago Lee) formed the band. In early 2001, Los Pinguos arrived in the City of Los Angeles and began playing on the street (3rd Street Promenade in Santa Monica) and local bars. Shortly, they participated in a new television show, "The Next Big Star," hosted and produced by Ed McMahon from "Star Search." Los Pinguos won the contest and received the Grand Prize. Since then, they have recorded all their CDs, Magia (2001), Camino Bueno (2002), Serenata (2003), Live in Los Angeles (2005), Peripecias (2006), California (2008) and 11.11 (2011). Los Pinguos have appeared on three of the famous Putumayo World Music compilation albums, Baila!, Radio Latino and World Party. They have performed worldwide in places such as India, Bali, The Montreux Jazz Festival in Switzerland, Italy, Netherlands, Puerto Rico, Mexico, Canada, and throughout the United States.
Plus, The Bonedaddys
The Bonedaddys, are L.A.'s original "Worldbeatniks" (since 1985) and one of the very first American bands to be described as Worldbeat. The Bonedaddys still take a "wide stance" stylistically, and claim influences ranging from Charles Ives to Burl Ives and much in-between; with the common musical denominator being a fun, danceable party ambience. The Bonedaddys were formed in Los Angeles by percussionist Michael Tempo and the group's sprawling, the ever-changing roster would variously include singers Kevin Williams, King Cotton, Billy Sheets, Gregg Sutton and now Kaspar Abbo. Their album debut was in 1988 with A-Koo-De-A!, (although they had earlier written and recorded a song about Bo Diddley with Bo Diddley on vocals and guitar; which was not released until a shortened version of it appeared on their CD "Garage Sale.  After "A-Koo-De-A" The Bonedaddys subsequently issued a series of albums including "Worldbeatniks", "To Jam Is Human, to Gig Divine, Jungle/Jungle, and Garage Sale. The Bonedaddys have now released their 6th album "waterslide." The all original songs on "waterslide" are designed to move butts of all persuasions and feature soulful vocals by front man and tunesmith Kaspar Abbo and King Cotton (named after Elvis' favorite brand of bacon) who are accompanied by the twin guitar attack of Marcus Watkins and Phil Gough, with Jay Work on saxophones and propelled by bass (Rick Moors), drums (Casey Jones) and percussion (Mike Tempo.) The 13 grooves on "waterslide" are a merry-go-round of styles and range from funk, rock, blues mambo, soca, Latin, rock-steady and psycho-billy two-step to an afro-surf twang meets spaghetti-western instrumental. "waterslide" is a gumbo stirred up in light refracted through a prism called Los Angeles. For The Bonedaddys, Worldbeat has come full circle to include an expression of American roots music.
July 25:  Ricardo Lemvo and Makina Loca
Ricardo Lemvo and Makina Loca is a dynamic 10-piece band that can literally burn up the dance floor by capturing all of the elements of African and Cuban music. The World Music ensemble blends African soukous and rumba with Cuban salsa and son. A native
of the Democratic Republic of the Congo (formerly Zaire), Ricardo Lemvo sings some of the material in Spanish and some material in the African tongues of Kikongo and Lingala.
Makina Loca features a dazzling array of attacking horns, mesmerizing percussion, and a rolling piano that floats along. Grab a window seat on
the rumba route dancing to Afro-Caribbean groove. "These guys play with an intensity that makes it impossible to hold still." —San Francisco Examiner
Aug. 1: The George Kahn Jazz and Blues Review plus Big Wave
The George Kahn Jazz and Blues Review
George Kahn Jazz & Blues Revue featuring pianist Kahn who is one of the few guys around who makes jazz both swinging and musical enough for the cognoscenti and yet entertaining enough for their dates. Kahn does this balancing act by bringing together some of the best locals around, including, for this performance, Grammy winner Dr. Bobby Rodriguez on trumpet. Delivering accessible driving tunes such as "Afro Blue" and "Cantaloupe Island" in a way that would satisfy either the hipster or Valley Girl. He does it by incorporating the terrific trio of vocalists Gina Saputo, Crystal Starr, and Courtney Lemmon to deliver the lyrics in both lead and backup form in ways that can veer from cutsie as on the Andrew Sisters-inspired "Beat Me Daddy Eight To The Bar" to the stomping STAX R&Bish "I'd Rather Go Blind." The ladies deliver a funky take of the Crescent City classic "Yes We Can Can" while going even deeper down Bourbon Street with Rodriguez's horn on a growling "Summertime."
Plus Big Wave
A seasoned five-piece band bringing you all of your favorite Beach Boys, Jan & Dean and Surf instrumentals including "Surfin' USA, Surfer Girl, Walk Don't Run, Kokomo, plus a special tribute to Dick Dale the King of Surf Guitar. A perfect show for a Summer concert setting. These seasoned musicians have backed up the "Beach Boys", "Brian Wilson" and "Jan & Dean" for the last 15 years. Featuring Don Raymond on guitar/vocals( Jan & Dean and Big Daddy ), Phil Bardowell on bass/vocals( Beach Boys & Jan & Dean), Michael Chanslor on keyboards (Jan & Dean) Chris Farmer on bass/vocals, & Todd Tatum on drums( Jan & Dean ).
Aug. 8:  Jim Curry Presents the Music of John Denver
Husband and wife team, Jim and Anne Curry with backup deliver the multi-platinum hits of the great John Denver in a fun-filled evening of singing and stories. Jim plays the guitar and sings John's songs in a crystal clear tenor that will take your breath away. Anne, his wife, and musical partner plays guitar and mandolin and sings harmony in all the right places. You'll be invited to sing along, share in the memories, learn new songs and howl at the moon (literally!) The music of the late John Denver is like an old friend, outlasting trends and standing the test of time. Join acclaimed performer Jim Curry for this tribute to the music of one of the most beloved singer/songwriters ever to grace the stage. Tribute artist Jim Curry, whose voice was heard in the CBS-TV movie Take Me Home: The John Denver Story, has performed Denver's music in sold out shows throughout the country and has emerged as today's top performer of Denver's vast legacy of multi-platinum hits. Jim's uncanny ability to mirror John's voice and clean-cut look takes you back to the time when "Rocky Mountain High" "Sunshine" "Calypso" and "Annie's Song" topped the charts, and his popular music had the heartfelt message of caring for the earth and caring for each other. Denver's
message is worth repeating: "Be kind to the Earth and to each other. " Jim's ensemble will include his wife, Anne who plays mandolin and guitar and sings harmony, a keyboardist with orchestral sounds,  and flutist. Together, they will take you on a musical journey of the heart, where you will be invited to sing, clap your hands, stomp your feet and howl at the moon. Don't worry, you already know the words to the songs.
Aug. 15:  The Pine Mountain Logs
Imagine a group as great as Venice, with those amazing vocals doing covers and you have the Pine Mountain Logs. Their just-for-fun tribute band, and one of the best ones as you can imagine out there. In fact, their covers of the band Venice sound just like them.
And who is Venice? Venice is a band from Venice Beach, Calif. that consists of two sets of brothers:  Michael and Mark Lennon, and their cousins, Kipp, and Pat Lennon. Their newest release, the double-disc CD "What Summer Brings," debuted in the Top 10 of the national album charts in the Netherlands, and continues to win acclaim with fans and critics worldwide.
As a band, the Lennons have recorded and performed together since the 1980s.  Their music is a reflection of many of their influences while growing up in the small, eclectic and culturally diverse beach town for which they are named.  Their sound is at once familiar and fresh, their classic rock and folk influences apparent in their pop sensibilities. You might recognize some of Venice's influences, such as Crosby, Stills & Nash, Fleetwood Mac, Joni Mitchell, Stevie Wonder, Steely Dan, the Eagles or Sly & the Family Stone.  Their hybrid of folk/rock/soul is relevant, alive and still growing, with many fans worldwide considering them the torchbearers of the Southern California sound.
Culver City's Boulevard Music Festival is sponsored by The City of Culver City, Sony Pictures Entertainment, Boulevard Music, John Riordan Plumbing, Culver City Volvo & Mazda, Swiss Motors, Sorrento Market, D & E Associates, Cavanaugh Realty, Dolce Realtors, Michael Kayem Remax, LaRocco's, Music Munchers, Dynagraphics, Culver City News, Culver City Observer, Steeldeck Inc, Eastman Guitars, Kremona USA, Ohana Ukuleles, Ernie Ball and others.