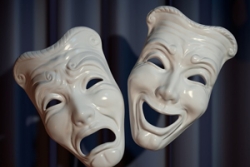 The immediacy of reaching out to a live audience and hearing their supportive response is what drives performers, directors, pro-ducers and designers to strive for excellence in live theatrical pro-ductions. With so many theater companies on the Westside offer- ing a wide variety of musicals, comedies and dramas opening this month, now is the time for you to venture out and enjoy all a live theater experience has to offer which cannot be matched by pre-recorded entertainment.
"The Broad Stage" in Santa Monica presents "Jack Lemmon Returns" which is a loving tribute to a world famous dad, told with respect and dignity by his son Chris Lemmon, opening Jan. 7. Written and directed by Hershey Felder and performed in a musi-cal story-telling style, this one-man show captures the magic of a bygone era when Marilyn Monroe, Gregory Peck, James Cagney, Jimmy Stewart, and Shir-ley MacLaine were but a handful of the many stars who passed through the Lemmon's Holly-wood Hills home. More information at www.thebroadstage.com.
The Kirk Douglas Theatre in downtown Culver City pres-ents the L.A. revival of "Chavez Ravine" by Culture Club, a bril-liant commentary on life in the City of the Angels, opening Jan. 27. Directed by Lisa Peterson, Culture Clash (Richard Mon-toya, Ric Salinas and Herbert Siguenza) delivers new insights with their signature satirical eye as they perform their revised take twelve years after its world pre-miere at the Mark Taper Forum. Energized with new material and music from The Rodarte Brothers, Culture Clash returns to one of their most beloved plays and reexamines the constantly changing landscape of Los Angeles in the still Wild West. More information at www.centertheatregroup.org.
The Geffen Playhouse in Westwood just closed the marvelous "Hershey Felder as Irving Berlin" musical on Jan. 4 and will open the West Coast premiere of "The Night Alive" on Feb. 3. With his trademark humor and human-ity, three-time Tony Award nominee Conor McPherson makes Phoenix Park, Dublin, a place where anyone can rise from the ashes. More information at www. geffenplayhouse.com.
Ruskin Group Theatre Com-pany located within Santa Monica Airport presents "A Piece of my Mind" written and performed by Eric Barr on Jan. 9 and 10. The second Sunday evening of each month brings "Library Girl" which this month celebrates the Cahuenga Press with readings from their featured poets on Jan. 11. "L.A. Café Plays" on Sunday, Jan. 18 brings five writers, five directors, and 10 actors together to create the fastest theater in town: five short plays in 10½ hours from concept to performance. "Leaving Home" by David French, directed by Barbra Tarbuck, starring Chris Mulkey and Karen Landry takes the stage at the end of January. More information at www.ruskingrouptheatre.com.
Edgemar Center for the Arts in Santa Monica presents the World Premiere of Henry Jaglom's play "Train to Zakopané." Based on true events during the rise of anti-Semitism in Europe in 1928, the play tells the tale of a Jew-hating Polish nurse who falls in love with a Jewish doctor as they travel by train to a Polish ski resort. Continues weekends through March 29. More infor-mation at www.edgemarcenter.org.
The Promenade Playhouse on Santa Monica's Third Street Promenade opens "The Memory of Water" by Shelagh Stephenson on Jan. 9. A hit in London's West End and winner of the "Laurence Olivier Award for Best Comedy," this play vividly brings home all the joys and sorrows of family relationships when three sisters reunite for their mother's funeral at which her ghost appears! More information at www.promenadeplayhouse.com.
Pacific Resident Theatre in Venice opens "Kalamazoo" on Jan. 8. This sparkling World Premiere comedy examines the romantic roller-coaster ride of a 70-something Irish Catholic woman and a 70-something Jew-ish, East Coast man who together try to embark upon a late-in-life love affair and prove that you're never too old to be young! More information at www. pacificresidenttheatre.com.
Kentwood Players at Westchester Playhouse near LAX opens Oscar Wilde's "An Ideal Husband" on Jan. 9 for a six-weekend run. This scathing sat-ire on British aristocracy is filled with temptations, betrayals and secret liaisons. More information at www.kentwoodplayers.org. Opening at the Morgan-Wixson Theater in Santa Monica on Jan. 17 for a five-weekend run is "God of Carnage." The play cen-ters on a playground altercation between eleven-year-old boys, which brings together two sets of Brooklyn parents for a meeting to resolve the matter. More information at www.morgan-wixson.org.
Theatre Palisades opens "The Diary of Anne Frank" on Jan. 16 for a six–weekend run. The play stars Sigi Gradwohl in the title role, one close to her heart and soul since her grandfather, who attended primary school with Anne before she went into hid-ing, frequently shared stories about Anne Frank with her. More information at www.theatrepali-sades.org.