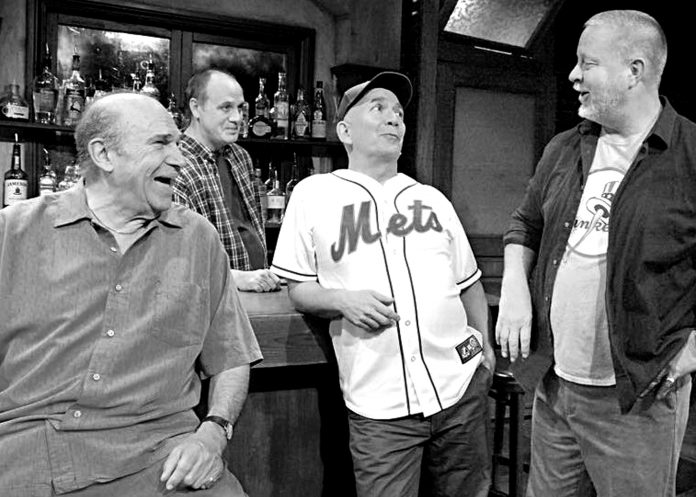 Ever since I discovered the Ruskin Group Theatre, a "hidden gem" on the Westside, I have attended as many performances as possible due to the quality of casting and technical brilliance on display in such an intimate space. Such is the case in THE ALAMO, a world premiere play by Ian McRae, directed by Kent Thompson, which has been so popular at the Ruskin that performances have been selling out for months.
McRae's new play takes place in the blue-collar Bay Ridge section of Brooklyn in a rundown neighborhood institution called "The Alamo," which its patrons refer to as the last great American bar.
But times change and so do neighborhoods, and McRae paints a humorous yet heartbreaking portrait of eight working class, Bay Ridge natives who always seem to find themselves on the front lines of change in America, even in their favorite hangout.
Taking place in modern-day Brooklyn, which has fast become a neighborhood of upwardly mobile, young professionals with entertainment dollars to spend, the only hope for The Alamo's long-suffering owners, married couple Munce and Carmen (Tim True and Eileen Galindo) to keep the place afloat is to update the bar into a local entertainment destination for the new Bay Ridge locals.
True and Galindo are a remarkable duo who realistically share their love and financial struggles with the audience, with Galindo allowing us to see Carmen's incredibly warm and caring heart for all those in need of a shoulder to cry on. But don't you dare cross or disappoint her unless you are ready to get a good earful of her Brooklyn "take no prisoners" attitude!
But of course, Bay Ridge locals and The Alamo regulars don't want to surrender their bar, much less their neighborhood, without a fight. This is especially true for former cop Joey (the totally natural Bobby Costanzo), the long-time No. 1 patron, whose racist and sexist opinions set the tone inside the place. His off-color rants are often based on the difference between how generations expressed their opinions during the Vietnam War, in which he lost his beloved brother, and the Iraq War, with his greatest anger directed at those who he feels, have dishonored our veterans. It's a deep-seated personal war within Joey's psyche that Costanzo expertly displays from moment to moment each time he takes the stage.
Perhaps the most revealing monologue performed with sincere, heartfelt perfection by Costanzo centers on Joey's description of the night John Lennon died when he was the cop assigned to accompany the singer to the hospital during his last few moments of life. The dichotomy of his caring professional attitude, as opposed to his personally disrespectful opinion of the singer's political views, reveals more about Joey than almost any other scene in the play.
Other long-time Bay Ridge locals include Mary (Milica Govich), a 9/11 widow of a man with financial ties to the Alamo, and her "so smart she ought to be in college" daughter Micaela (sharing the role as Kelsey Griswold and Julia Arian), who prefers to be her own boss and has been hired by Munce, her godfather, to paint the inside of The Alamo to appeal to the new, younger generation of patrons. Secrets revealed along the way about her father, as well as Joey's brother and the real affection between Joey and Carmen, let us see how hiding the truth wastes not only time but changes the motivation which drives your life.
Other long-time bar patrons are portrayed by John Lacy as Dominic, a former trash collector who shares several gritty and eye-opening route stories, and Jack Merrill as Tick, a diabetic trying his best to not drink while hiding his secret dating life from his friends and family, especially his wife. The first hint of this is shared when Dom grabs Tick's cell phone to stop his constant texting. And other than the brutally bitter reaction of his wife Claudine (Nancy Georgini who commands the stage in her one scene with Galindo as Carmen), it is the overwhelming love and respect of his friends that keeps Tick from ending his life after his secret is discovered.
Thanks to Kent Thompson's brilliant direction and Ian McRae's incredibly well-drawn characters expertly performed by an outstanding cast, there is no doubt THE ALAMO will continue to sell out. Performances continue on Friday/Saturday at 8 p.m. and Sundays at 2 p.m. through April 29; produced by John Ruskin and Michael Myers at the Ruskin Group Theatre, located at 3000 Airport Ave., Santa Monica. Tickets are $27 – $30 and can be purchased in advance by calling 310-397-3244 or online at www.ruskingrouptheatre.com. Free parking available on site.