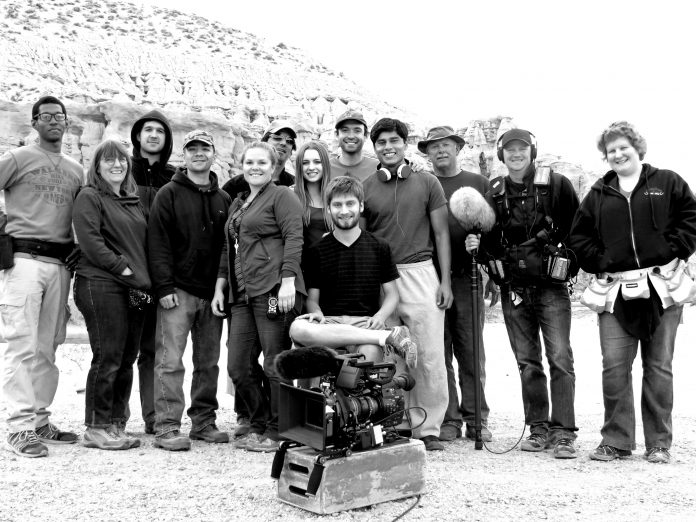 By Meredith Powers 
Jacob Lince sat back and carefully articulated the personality differences between himself and Nathan, the leading role he plays in the upcoming film "Nathan's Kingdom."  Lince is calm and relaxed, while Nathan is intense and bizarre. Lince is rational and thoughtful, while Nathan is impulsive and entrenched in his self-invented fantasy world. 
Despite the polar differences between Lince and the character Nathan, this new motion picture exploring the relationship between a young autistic man and his sister and their road to survival, the 24-year-old explained his strong connection to the role. At three-years-old, Lince was diagnosed with high-functioning autism. 
"I was really grabbed by the story," Lince said. "I think on a general, ethereal level, that attachment to being someone like me with autism, that really resonated with me a lot."
The film has its west coast premiere in the Dances With Films Festival on Wednesday at the TCL Chinese Theaters in Hollywood and stars Lince, who lives and was raised in Culver City. "Nathan's Kingdom" is Lince's first leading role in a feature film. Lince was cast by filmmaker Oliver Muñoz out of about 200 other actors who were both neurotypical and on the spectrum. Muñoz knew Lince was right for the role after several auditions when he understood Lince would do whatever the role required. 
"Jacob is on the spectrum and he's playing someone on the spectrum who is very different than himself," Muñoz said. "Jacob fell out of the sky and was the perfect actor to take on this role."
"I think most actors hit this wall where they're just not willing to go any further because they're too self-conscious or they're too much in their head. (Lince) took direction and followed it really well and delivered it," Muñoz said.
Lince said the film challenged him most in the scenes with intense, raw emotional outbursts. Though the character of Nathan differs from his own personality, Lince said it was easier to understand the role because of his own experience with a spectrum disorder.
"I think it might be harder for someone who is (neurotypical) to get into that headspace because it can be a very chaotic headspace," Lince said. "I think I've only seen a few times where that was portrayed very well."
Lince started acting at age 15 with The Miracle Project in Beverly Hills, a performing arts program for children and adults with autism. He also worked with performing arts groups at Culver City High School, dee-Lightful productions in Culver City and Performing Arts Studio West in Inglewood.
"I think there was a moment where I started to become more aware of my own emotions," Lince said. "I decided I wanted to explore them more and thought acting would be a good way to do that."
His parents, Jeff and Victoria Lince, saw early on that he had a knack for performing along with other theater mechanics, like learning and memorizing lines.
"He has a great memory. That's never a problem with acting jobs. Sometimes he has to go out for auditions and he gets those lines and looks them over for about 10 minutes and then he goes back to video gaming. That's all he needs," Jeff Lince said.
When Lince started auditioning for more professional roles, his parents encouraged him but expected a long and tedious process. "He kept saying, 'We've got to get me out there,' and I kept saying, 'You're going to be auditioning a whole lot before you get anything,'" Victoria Lince said. "Then the first time he auditions he gets a feature film." 
Since filming "Nathan's Kingdom," Lince has continued studying film production at West Los Angeles College. He says he would like to continue acting but also has interests in writing and filmmaking. 
"I hope that I can give inspiration to others on the spectrum," Lince said. "I think at some point you just have to give it a shot – whatever you want to do, whether it's acting or just anything else in the world – you just have to start trying to put yourself out there. It can be hard to not worry about what might happen to you, but it's the journey that really matters, and I think I've had a really great experience so far."