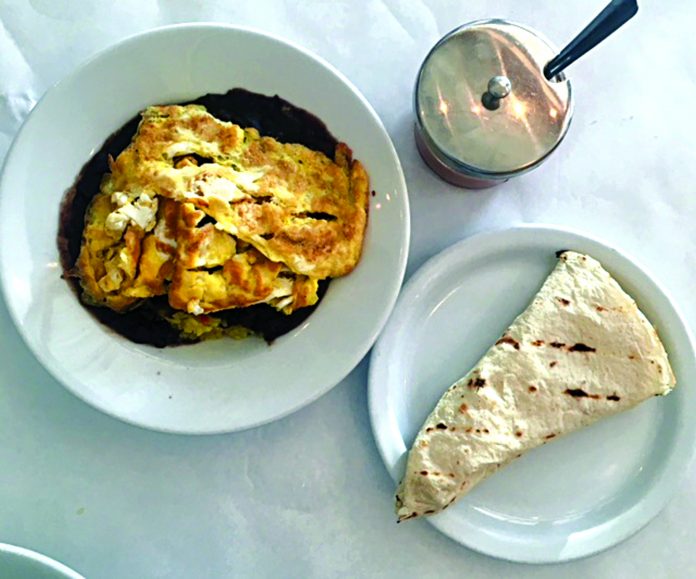 By Lucille Cooper
Today we decided to venture downtown Culver City, on Main Street to be exact, to Grand Casino Bakery and Café. Grand Casino describes itself as specializing in Argentinean cuisine and baked goods.
We were lured in by the smell of rich coffee brewing. Once inside, it was almost impossible not to notice the bakery counter chock full of pastries and skillfully decorated cakes. We were tempted to sample a croissant or freshly baked bread roll, at one of the tables for two, however, we were eager to see what was on the breakfast menu.
There was a nice mix of cultures represented on the breakfast menu, from South American and French to North American offerings. Tempting items such as chimichurri steak and eggs, as well as breakfast burritos, French Omelets and even a California Omelet filled the morning menu. It was worthy of note that a lunch, dinner and even happy hour menus were within our reach with flavor offerings like empanadas, which are pastries filled with meat or vegetables.
However, since we were here for breakfast, we decided upon the Huevos Rancheros, which is a meal of black beans, yellow rice, two eggs, fresh salsa, and a choice of corn or flour tortillas. There were lots of drink options available as well, such as juices and coffees, and Mate, which is a popular South American caffeinated tea.
As we sipped on the iced lemon water offered to us, we couldn't help but notice the inviting atmosphere. The tables were covered with white linen tablecloths and glass vases with fresh flowers, which provided a welcomed sight. The piano music that was piped in was at just the right volume and added a nice ambiance along with the pastel-painted walls that were tastefully decorated with lots of framed pictures.
Our piping hot Heuvos Rancheros arrived and we were eager to dig in. We chose the flour tortillas on the side and opted to have our eggs scrambled. It was a generous portion indeed and came with plenty of fresh salsa. The delicately flavored yellow rice was plentiful and flavored, and the black beans were cooked to perfection leaving you wanting more.
Our scrambled eggs on top of the meal complemented the rice and beans nicely. The smooth salsa added just the right amount of depth of flavor and succeeded in pulling the entire meal together. The warm tortillas added to the wonderful experience.
Overall, we greatly enjoyed our breakfast here at Grand Casino Bakery and Café and we will be back if only to try the empanadas.