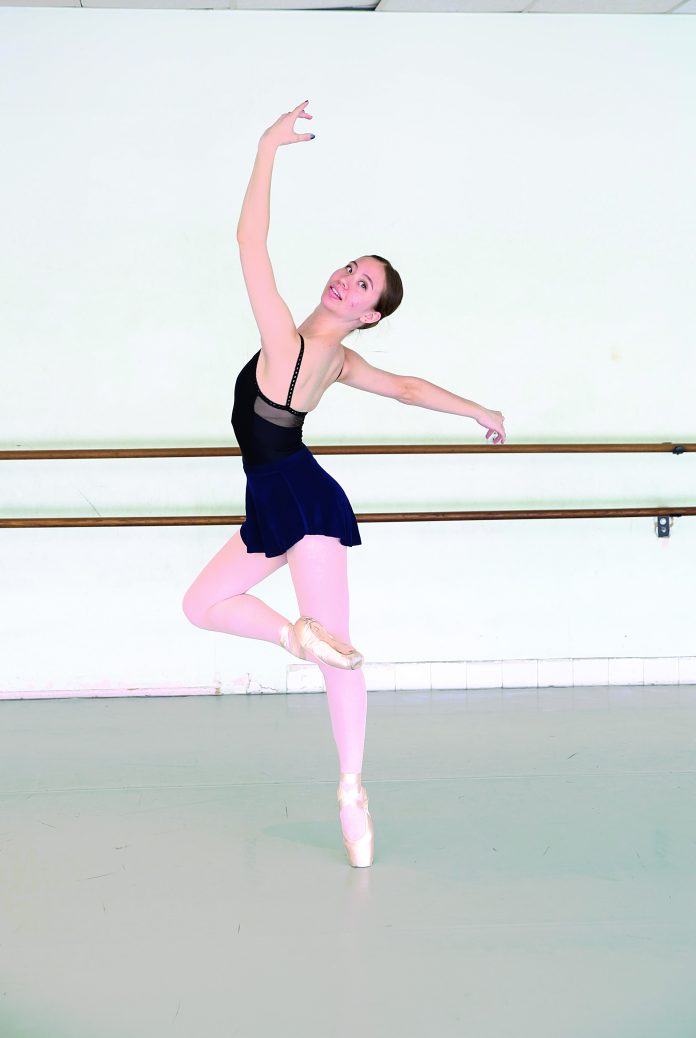 By Meredith Powers
Arms extending to each side, Toscana Finke soars across the rehearsal stage at Westside School of Ballet in long, consecutive leaps, her stiff tulle skirt underscoring the diagonal movement from stage left to stage right.
Her head held high and tilted just so, the light illuminates Finke's smile and gaze. Finishing her solo and stepping off stage to make room for the next dancer, her smile stays, a look of satisfaction crossing her face.
In Westside Ballet's Spring Showcase on Sunday at Santa Monica College, Finke will exhibit styles of classical ballet, contemporary dance and jazz as part of her final performance, a culmination of 12 years with the studio.
In the fall, the Culver City High School student plans to attend Hamilton College in Clinton, New York on scholarship where she will pursue a career in medicine while continuing studies in dance as a double major.
"Finishing my time at Westside will be bittersweet because I've spent so much time and effort into making myself a better dancer, with the help of the faculty, and I've made my closest friends at the studio," Finke said.
To Westside Ballet Artistic Director Martine Harley, Finke was the perfect match for the solo in Sunday's opening sequence of Paquita, because of her dynamic athleticism.
"She comes out of the wing and literally leaps all the way across the stage," Harley said. "As soon as we were envisioning that solo we thought of Toscana. She's got the jump for that. It's got to be someone who's got a powerful jump."
Before Finke was attending classes and rehearsals, she remembers why her mom thought dance would be a natural fit.
"My mom noticed that I liked to dance and boogie out when I was a toddler listening to music," Finke said.
She joined Westside Ballet at age 6 and has remained with the studio since that time. As early as she can recall, the community at the studio has welcomed and encouraged her.
"I remember my very first day here. I was terrified," she said. "My very first day I walked into the studio and all these girls came up to me to introduce themselves. I thought, 'Oh my God, everyone wants to know my name and why I'm here.'"
To the teachers at Westside Ballet, there's no surprise at Finke's success. Teacher Caprice Walker remembers how even as a young student, Finke's poised ballet positions set her apart from other dancers her age.
"She had beautiful lines," Walker said, mimicking Finke with arms extended lightly. "She's always been a tall dancer."
Finke said her dedication increased when she was hand-picked by studio founder Yvonne Mounsey – known for her time with the New York City Ballet – to advance to the next level during the fourth grade. From that time, Finke felt honored and continued to improve, inspired by the attention she received from Mounsey at a young age.
Ballet fostered Finke's passion for dance and movement, but she admits it was hard to balance a rigorous high school course load and her commitment to dance. During her senior year at Culver City High, she enrolled in four Advanced Placement courses while attending ballet classes and rehearsals six days a week.
When injuries forced Finke to undergo surgery on her left foot during the summer before her senior year, she wondered if it would be easier to excel in school without other extracurricular pressures.
"The surgery in and of itself was a setback," Finke said. "My motivation faltered at that time."
But as the studio began planning its annual Nutcracker performance, Finke regained her excitement and determination at the chance to perform her dream role as the Dewdrop Fairy. With only one month to rehearse after being cleared to participate again, Finke worked through her recovery and nailed the physically demanding role.
"You're a little sprightly fairy," Finke said, lighting up as she described the role. "Because of that you're jumping and energetic. By the end of it, you're doing a ton of consecutive jumps going across the stage. That last pose with the music crescendoing and all the flowers surrounding you, it gives me chills just thinking about it."
As for her next steps, Finke said that dance, intertwined with the injuries she suffered, introduced her to the medical field.
"I get injured really often and was getting sick of it," Finke explains. "I would hear doctors talking about my condition and I thought that if they were going to be talking about me, I might as well learn what they're saying."
Finke will be joined by other dance students, including nine from Culver City, for Westside Ballet's May 27 Sunday's Spring Showcase, featuring the revival of Paquita. This ballet was first created in 1846, with the dynamic score by Minkus, and will be highlighted by a beautiful ensemble, trio and solo segments.
There will be two limited performances at 1 and 5 p.m. at The Broad Stage in Santa Monica, 1310 11th St., Santa Monica.
The Spring Showcase, which will feature the revival of Paquita, first created in 1846, with the dynamic score by Minkus, and beautiful ensemble, trio and solo segments.
Tickets are $35 and may be purchased online at https://westsideballet.tix.com/Schedule.aspx?OrgNum=4547 or by calling 1-800 595-4849