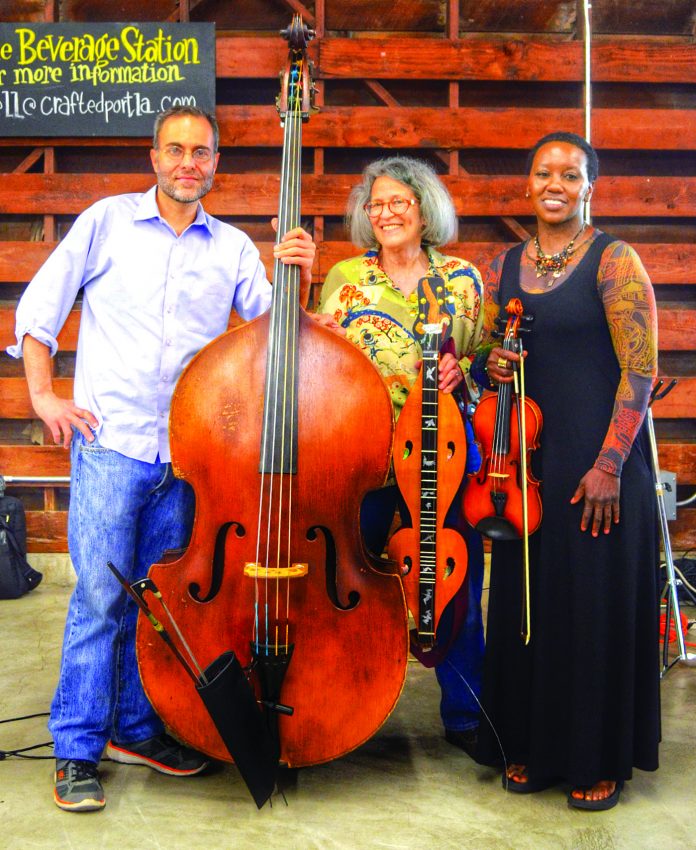 By Gary Mandell and Gary Kohatsu
Joellen and the Urban Gypsies bring the whimsical and imaginative mountain dulcimer player/builder and accordionist, Joellen Lapidus, together with the musical talents of extraordinary jazz violinist Yvette Devereaux, and multi-genre upright bass player Oliver Steinberg.
"We present Americana/Roots/Folk/World music through an urban lens being equally comfortable playing square dance tunes from Appalachia, jazz standards from the 1940s, Indian Ragas, pop tunes and Klezmer.
Joellen Lapidus and the Urban Gypsies will perform from 8 to 10 p.m. Saturday, May 12 at Boulevard Music, 4316 Sepulveda Blvd., Culver City. Tickets are $17.50.
1) When did you start playing and writing music, and when did you start taking it seriously (playing live, recording, etc)?
I took accordion lessons in elementary school at age 7 and had to switch to the clarinet in junior high because they wouldn't let an accordion in the orchestra or marching band. Then came the 60's and I took up guitar and singing. I performed in school and citywide orchestras from 8 years on.  At 19 I hitchhiked across Canada with a fellow musician and we played at clubs and radio stations all the way to the east coast of Newfoundland.
I saw a mountain dulcimer for the first time in high school, heard Richard Farina play in 1965 at the Newport Folk Festival, and got mesmerized by the sound. I started building dulcimers when I moved to Big Sur in 1967. I sold a very special "Festival Model" dulcimer to Joni Mitchell in 1968. Meeting her and spending a few days with her in Big Sur was a turning point in my life. That is when I decided to take myself seriously as a musician and musical instrument builder.
2) Who are your main influences?
The musicians of Big Sur had a huge influence on me because all of our music was improvised and I was used to reading off the page. Playing music from the inside was challenging and exhilarating.  Hearing Richard Farina playing the dulcimer with Mimi Farina and Bruce Langhorne on percussion (a great L.A.-based musician who recently passed), planted a world music, highly rhythmic sound in my head that I have copied and built on for my entire career. Another huge influence was Indian and Arabic music.  I studied both at the Ali Akbar College of Indian Music in No. California in the late 60's. In the 2000s I reconnected to my roots and got deeply in Klezmer Music. I started a Klezmer workshop at McCabes Guitar Shop in Santa Monica and met Dan Radlauer, an incredible musician, and composer.  Together we started the band Extreme Klezmer Makeover and performed at concerts, weddings bar and bat mitzvahs and at the Culver City Summer Concert Series until we disbanded in 2013. Two of our substitute musicians were Yvette Devereaux on violin and Oliver Steinberg on upright bass.  Yvette and Oliver and I are now my current band:  "Joellen and the Urban Gypsies". The 3 of us will be performing at Boulevard Music Saturday night May 12 at 8 p.m.
3) Describe your own style…
I was born in New York City and was exposed to a huge variety of music: classical, marching band, folk, Broadway, world, Indian, Arabic, pop, rock' roll, and jazz. These have all contributed to my style. I am best known for my rhythmic style which is very different, broader and more dynamic than the traditional style of playing the mountain dulcimer.  In my shows I try to expose the audience to the versatility of the mountain dulcimer by playing and singing old-time square dance tunes, current pop tunes, original tunes with Indian and Arabic rhythmic influences, ballads that have current political reference, silly fun tunes that the audience can sing along with and some just plain gorgeous music that I have come to love.
4) Do you have any albums/singles available?
I have a website www.lapidusmusic.com where you can hear and/or purchase all of our music in CD or digital format.
5) Where are you based? What do you think of the local scene?
I live here in Culver City and am thrilled at how many great musicians there are here. It's also overwhelming because there's so much competition for the few venues that present acoustic music. It is so fabulous that Boulevard Music in Culver City, McCabes Guitar Shop in Santa Monica and The Coffee Gallery Backstage in Alta Dena offer live music almost every weekend. I wish there were more venues for acoustic music. The mainstream seems to be lots of electric instruments and computer-generated sounds.  I love that music too but it's not what I want to play or perform.
I've played Boulevard Music many times with both the Klezmer band, "Extreme Klezmer Makeover" and my current band: "Joellen and the Urban Gypsies." I love playing there. Gary is very generous. All seats are good. It's informal and friendly. The coffee and cookies are delicious and the sound is excellent for both the performers and audience and that's really important. And what could be better than performing surrounded by hundreds of beautiful musical instruments!